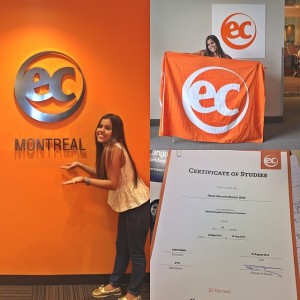 It is with a heavy heart that we say farewell to Paula.  It has been a joy hosting her during her language adventure!  We will miss her energy and school spirit!
Here is what she would like to share with all of you about her EC Montreal experience:
Today I finished the most wonderful and amazing experience of my life, a school that gave me not only the opportunity to improve my English but the possibility to meet people from all over the world, make a lot of friends, memories and likewise allowed me to see the world from another perspective. Thank you EC Montreal for being an exceptional school.  I'm very grateful because not only did I grow up intellectually but culturally and like a human.
Thanks to all of those teachers who gave me the opportunity to share moments and those who gave me knowledge, advice and their time.
Thanks all of the personnel at EC Montreal who always were as a second family to me and made me feel like I was at home… And of course thanks all of my classmates and friends that I made, for all the unforgettable moments.   I'll always have a space in my heart for you and my house will always wait for you in Barranquilla – COLOMBIA. Also I promise visit your countries and never forget you.
I don't want to go…I don't want to say goodbye yet because I still have much more to live in Montreal (It was a really short time) , but I promise to come back and I will remember this experience forever!
Comments
comments