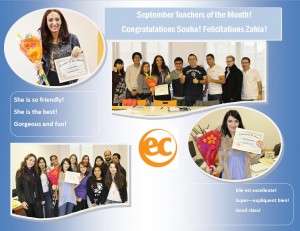 Today, EC Montreal surprised its September teachers of the month!  Every month, we ask our student ambassadors to distribute voting ballots to the entire student population.  We then collect the votes and determine our teachers of the month!
The ballot simply asks the student to write the name of their favorite teacher and to indicate why.  The why question is so important to us because we are able to collect so many wonderful comments about our teachers.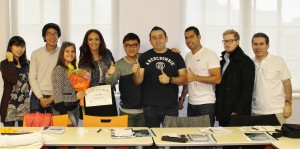 We type up all the comments and display them in the teacher's lounge, so they can see how very much appreciated they are for the work they do!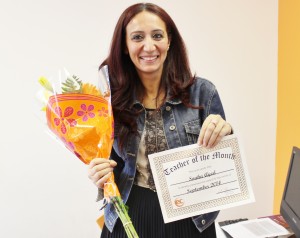 The winning English teacher was Souha!  Souha has been teaching English and French at EC Montreal for the past 8 years.  She was delighted to be chosen once again for our English teacher of the month!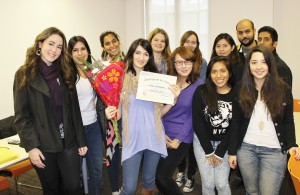 The French teacher chosen was Zahia.  She is a first time winner!  She too was thrilled to be surprised in class.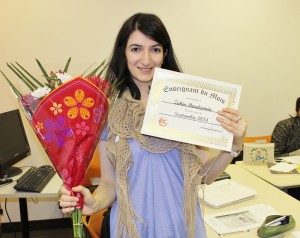 Congratulations to both Souha and Zahia!  Thank you for your dedication and incredible passion for teaching!
Please find all the student comments for every teacher who was nominated below:
Good class.
Super gentille, explique bien.
Elle est excellente!
She is so cute! 
Excellent teacher!
She is a creative teacher. Dynamic and she has good energy for classes. Her explanations are very clear.
He is competent as hell!
Il connaît beaucoup et dynamique!
Funny!
Gorgeous and fun!
Sa classe est bonne et dynamique!
I love her!
The best ever!
He is very kind!
Parce que'elle est tres energer.
Didactique!
Amazing, patient and cute teacher!
Because she explains really good and easy. She's fun!
She is the best!
I like her!
Variety of activities, motivated and good balance among speaking, listening and writing.
He is very good teacher. He has a good pronunciation. His classes are very interesting.
She has a very good methodology.
She is nice.
Very patient, dynamic and didactic.
I think I'm learning a lot with him. He's a really good teacher and a good person!
So friendly!
Comments
comments