EC Montreal named its English and French teachers of the month today!  Last week, our student ambassadors helped us to distribute voting ballots to the entire student population.  The votes came pouring in!  It was so nice to see so many students taking the time to vote for their favorite teacher and to write so many wonderful comments.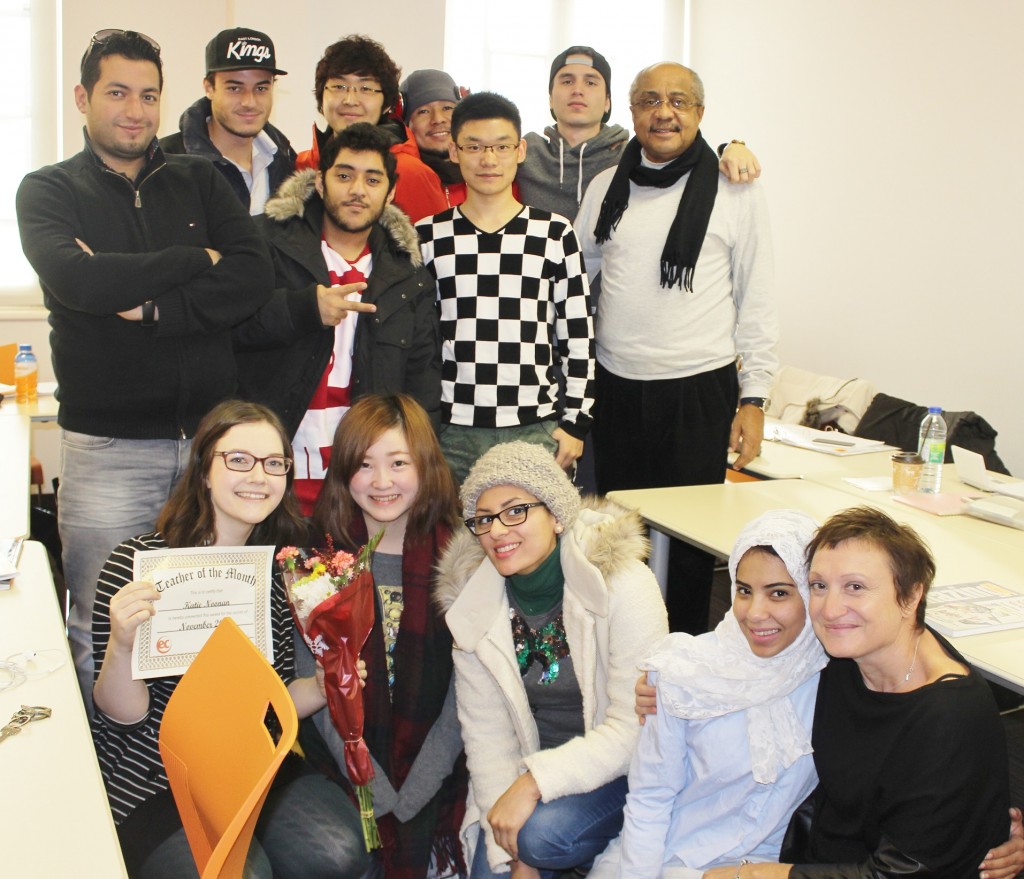 We take the time to type up every comment and display it in the teacher's lounge so they can see how much they are liked and respected by their students!  We were also delighted to see that every teacher received at least one vote!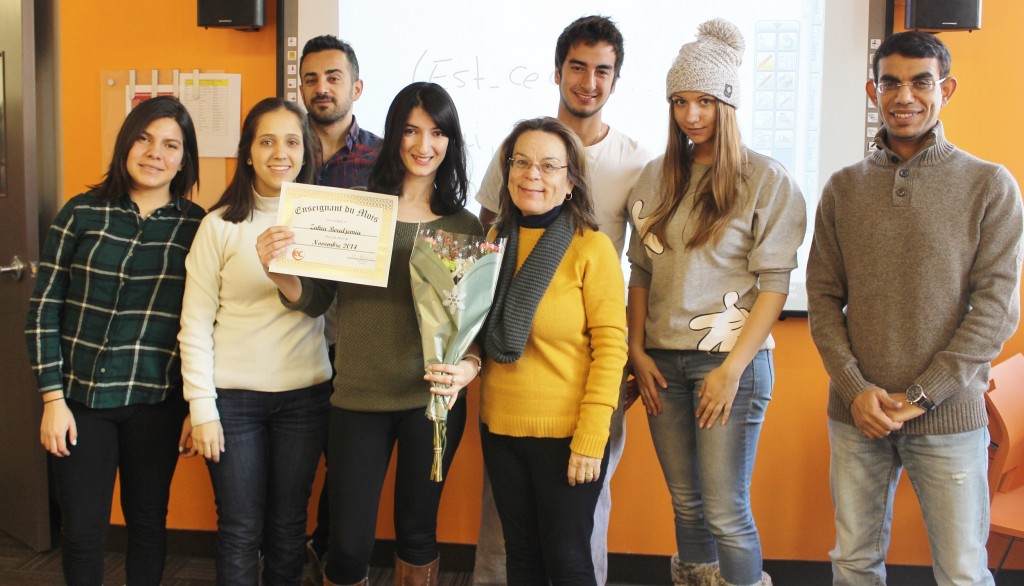 We surprised our French teacher Zahia in class today.  She was so happy to hear this news!  She proudly held up her Teacher of the Month certificate and bouquet of flowers.  Her students were delighted to take a group photo with our teacher of the month!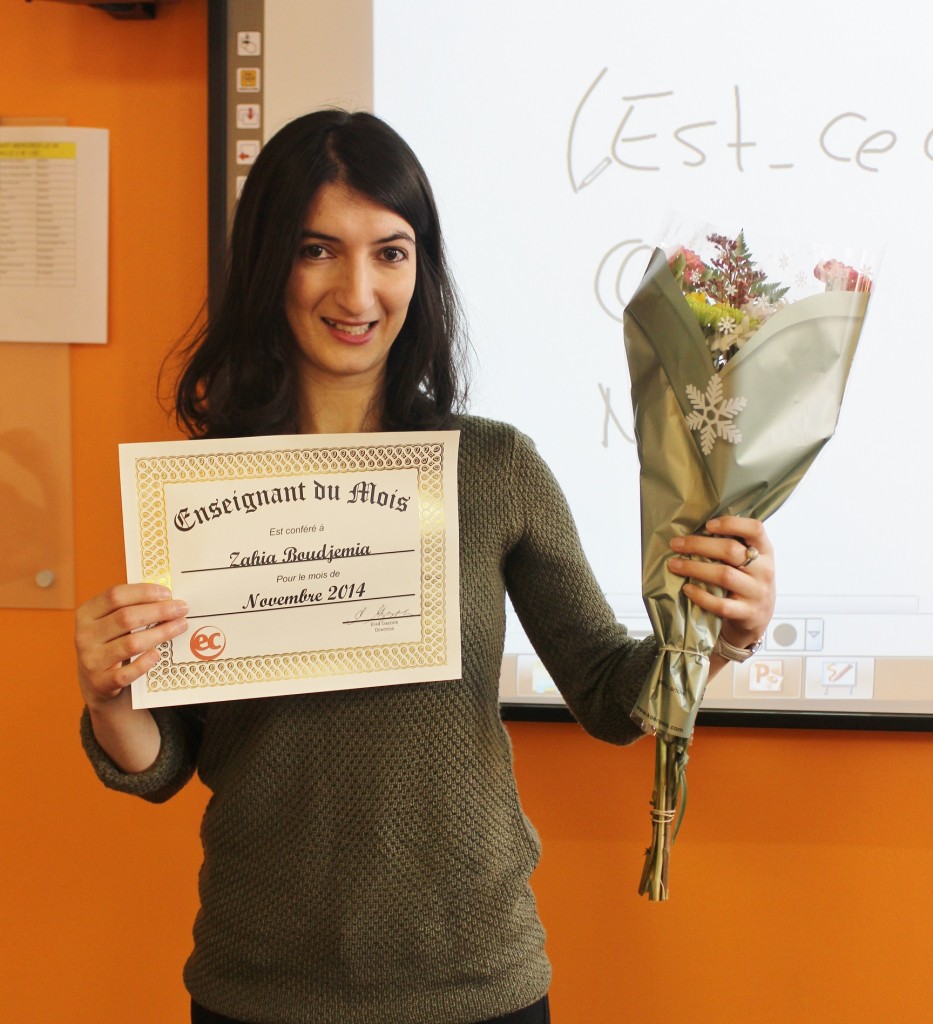 Next, we surprised Katie!  She is our November English teacher of the month!  She too was extatic to hear this news!  Her students applauded and were thrilled for her.
Congratulations to both Katie and Zahia!  We are so proud of you and this wonderful achievement!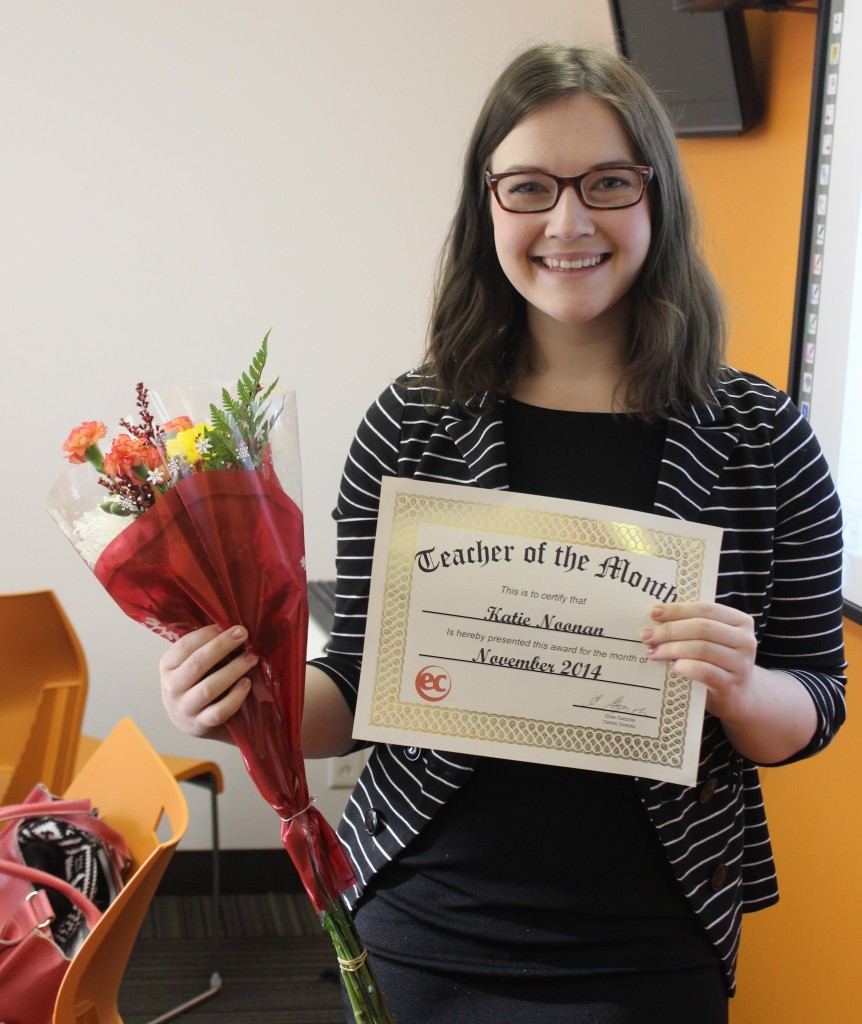 Here are all the comments our students wrote about their teachers at EC Montreal!  Join our English school in Montreal and our teachers will help you accomplish your goals!
Quite helpful!
Amazing, interesting lessons, very cool person!
Good class!
Very kind.
I like her class.
I learn very well with her.
She should be our teacher of the month.
Her way to teach is so good for me.
She is a veteran teacher.
She's nice.
Teach very interesting every day, very active!!
She is simply the best!
Amazing teacher!
Good teacher.
I like her!
Energetic and happy!
She is really kind and energetic. Thank you so much.
Because she is a very good teacher and she explains very well.
Such a great, dynamic way of teaching. Super available, patient, great sense of humour. Just love it!
Il est très communicatif, sympathique et intelligent.
Best teacher ever !!
He is an amazing person and an inspired teacher.
He's fun.
Because he makes the class funny and comfortable.
Diversity in teaching.
Kindness person
I like the topic and play some games.
She is professional.
Polite, good teaching skills.
Good and practical exercises.
She is attentive.
She is fun.
Because understand about her.
Good teacher
She tries to teach us carefully and listens to what we say.
Always teaches very kindly. Slowly encourage all the time.
She is amazing.
She explains very well and her classes are so funny.
She is the best!
She can explain very well so nice.
Beaucoup de très bons exercices et de bonnes explications.
Elle est très didactique.
Elle veut nous essayer d'informer beaucoup.
He is a good teacher.
I like this teacher.
Nice teacher.
Parce qu'il donne et corrige beaucoup le travail supplémentaire.
He is funny.
She explains very well and she's so funny !!
I like the idioms class.
Organized, structured methodology.
Elle a beaucoup d'énergie et trouve les sujets plus intéressants.
Classes are well structured and it was easier to learn with classes based on books.
Comments
comments