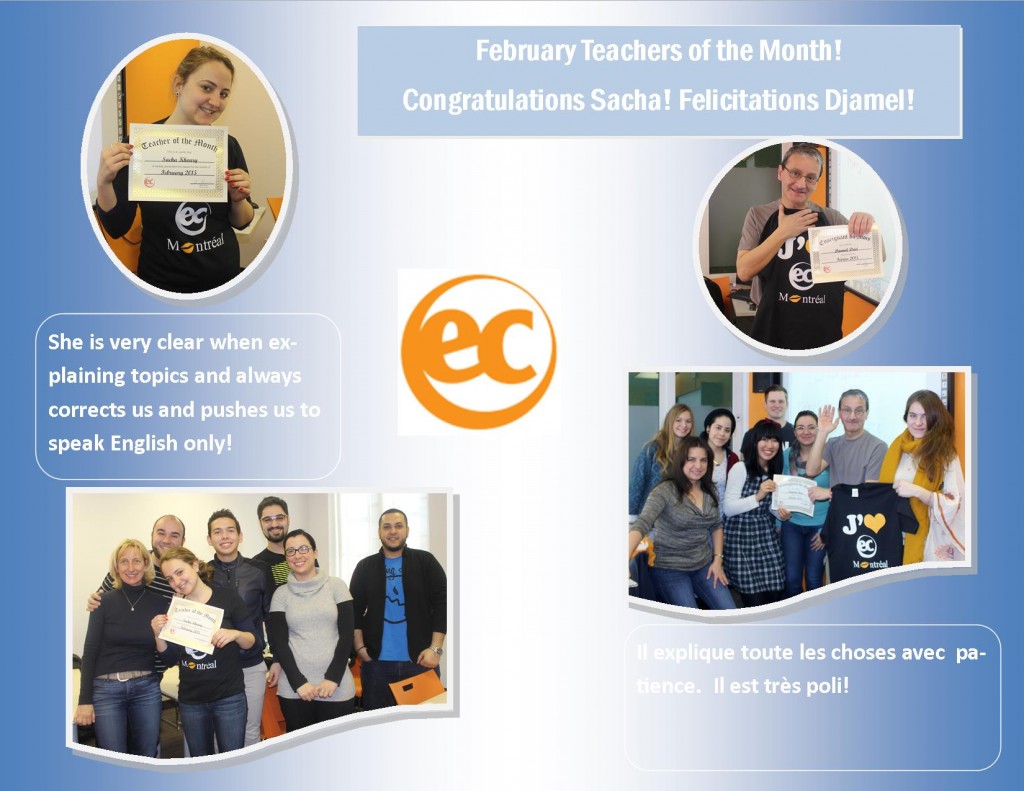 EC Montreal named its February teachers of the month today!  As with previous months, our students cast their ballots for their favorite teacher.  We counted up the votes and read all the wonderful comments and are proud to announce that Sacha has been named our English teacher of the month and Djamel our chosen French teacher!
We surprised both teachers in class and their students cheered them on.  They were given a special Teacher of the Month certificate as well as an "I heart EC Montreal t-shirt".  They were thrilled and posed proudly with their students.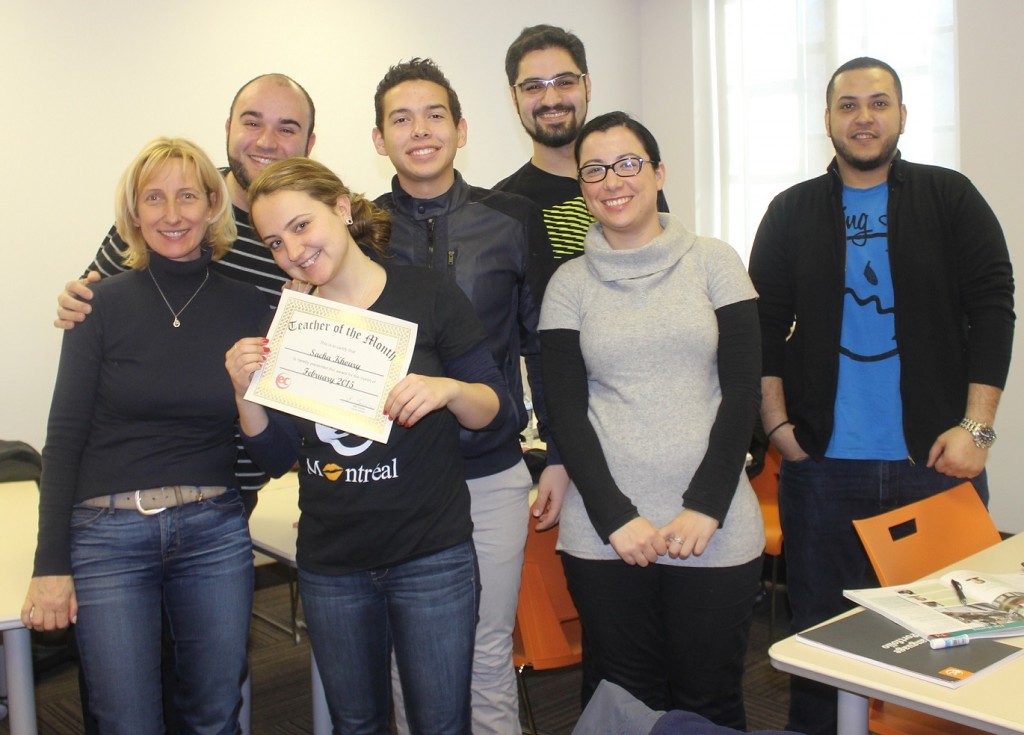 Students taking English and French courses in Montreal with EC are guaranteed to have high quality, talented and passionate teachers!
We were delighted to read so many positive comments written by our students and are happy to share them with everyone: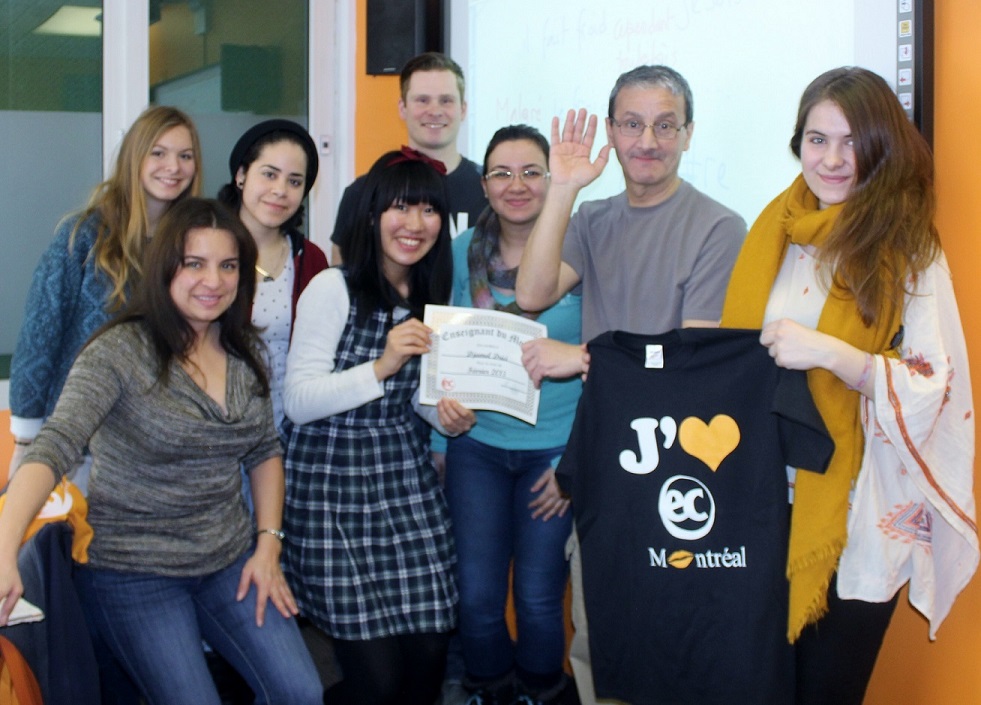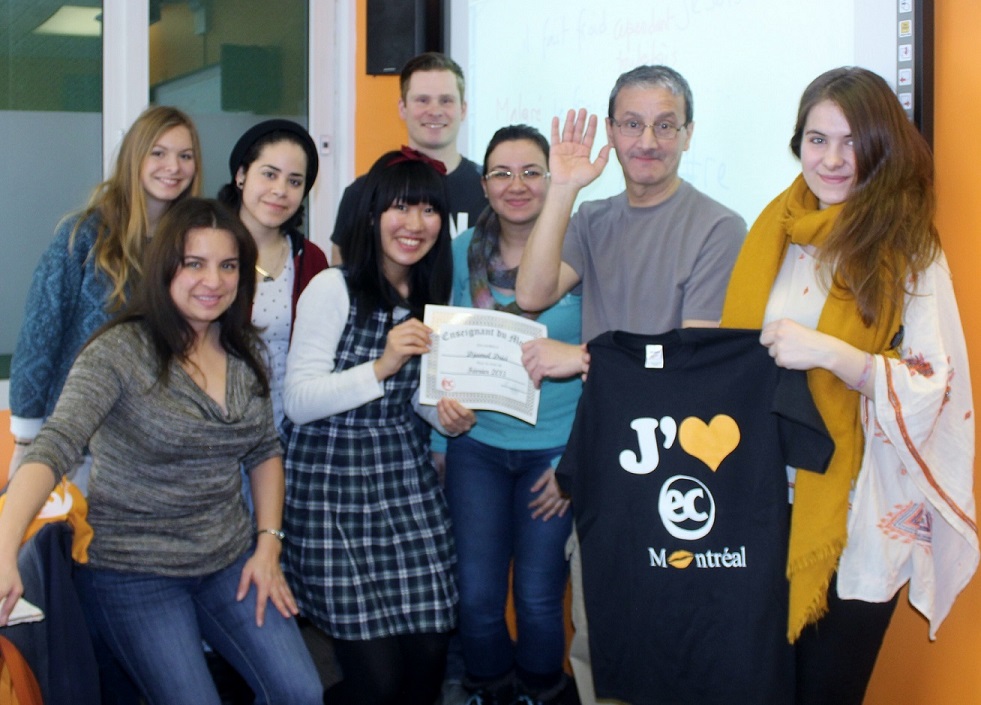 He has a native accent.
Elle est très organisée et sa classe est très productive.
Il est calme et explique très bien.
Elle est sympa.
Elle est très gentille.
Elle est très motivée et elle est aussi très didactique.
Elle est très didactique, patiente et animée.
Her lesson is always fun because of her smiley and sunny, bright character. I have improved my communication skills.
Elle est toujours heureuse.
La meilleure!
Elle est très motivée.
She's always funny.
Good.
She's a great teacher!
She's very interactive and active. The classes with her pass very fast.
She's amazing!!
Because she spreads good mood!
She's very patient and she makes the language more interesting.
She is amazing.
She is very clear when explaining topics and always corrects us and pushes us to speak English only.
He encourages us in a positive and appropriate way. I feel comfortable.
The class was very funny!
He is really good!
He always helps me. I really like his jokes!
Très organisé. Il donne des bonnes explications.
C'est parfait ! Il explique toutes les choses avec patience. Il est très poli !
Il est magnifique ! C'est le meilleur !
There is not enough space to right the many reasons she is the best teacher !
She is so kind and she is so funny!
She's amazing!
He is very good.
Interesting!
I love him!
She is polite and nice!
She is a good teacher, very patient, good method.
He is an amazing person!
He is a very good teacher! He deserves to win!
He is a really good teacher!
He's a very, very good teacher!
He is funny and makes the class interactive.
He is funny and he has a different teaching method.
She speaks very well.
She works very well.
She is funny!
She's so kind and helped me a lot for these last weeks.
The class is fun!
She has good presentation skills.
Comments
comments