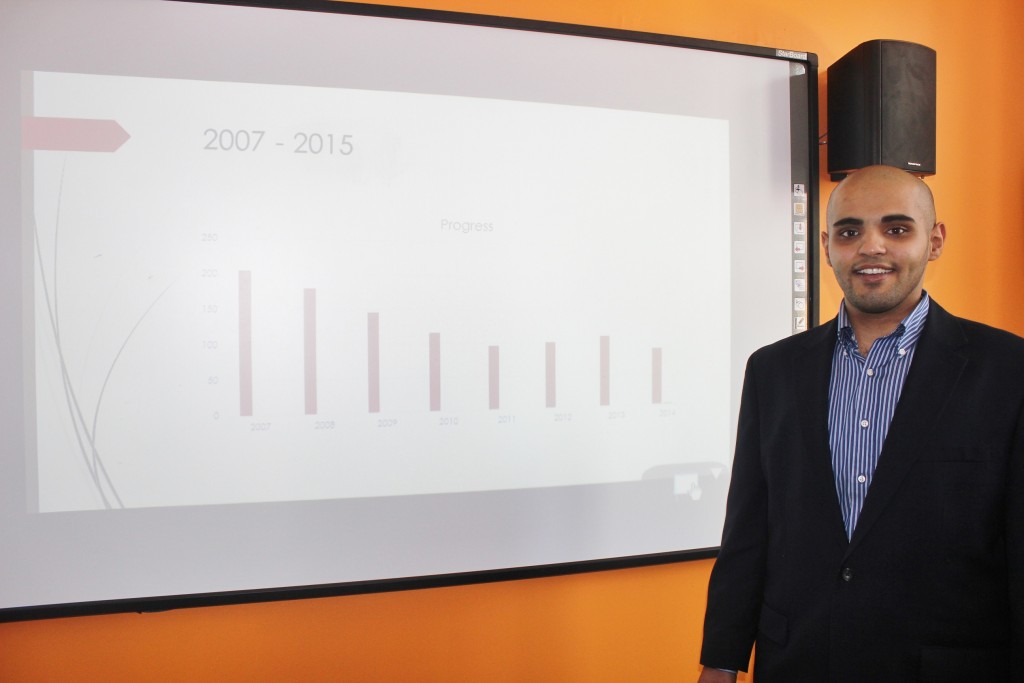 Abdulaziz Alromaih is a student from Saudi Arabia participating in EC Montreal's IELTS preparation course.  In addition to his IELTS in Montreal course, he decided to prepare for a presentation as part of our Student Academic Lecture Series.
His title of his presentation was How I Lost Weight. He explained that he is not an expert. He is not a nutritionist, a dietitian nor is he a personal trainer; however, he can talk to us about his personal experience with weight loss.
He explained to us that he went through a lifestyle change. He said this is the only true way to see results. Otherwise, the successes are short term when people go back to their old habits.
His journey began in 2007 when he weighed over 200 kilos. He read a book that inspired him as it was written by someone who went through extreme weight loss and he told his story in a very positive and humorous way. Abdulaziz took baby steps and pushed himself week after week. When he first began he could only walk 15 minutes per day. Now, he can train in a gym for over 1.5 hours doing intense cardio and weight training.
Abdulaziz spoke about the different elements of the lifestyle change; motivation, change, attitude, food consumption, exercise and metabolism.
Abdulaziz now weighs 95 kilos. He looks great and most importantly, he feels great. He has energy and continues to push himself to improve his health and strength. It's not about how much you weigh, he explains. It's about how much you can do.
Abdulaziz gave an excellent presentation. He is a natural public speaker. He made great eye contact, engaged the audience and spoke with great confidence. His presentation skills were impressive, from his professional attire to the well prepared slide show. He used videos and other visuals to illustrate his points.
We were all very impressed by his vocabulary, pronunciation and use of the language.
Congratulations Abdulaziz on your stellar presentation and on your inspiring lifestyle change! Great work!
Comments
comments