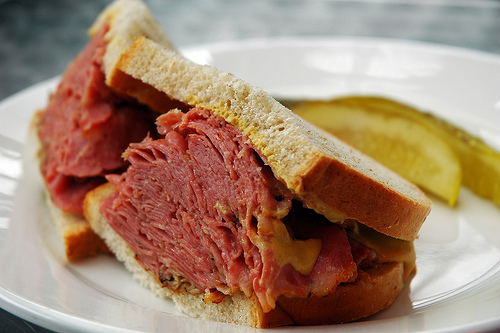 Along with bagels, smoked meat has been popular in Montreal since the 19th century, and has taken such strong root in that city, many Montrealers, and even many non-Montrealers, identify it as emblematic of the city's cuisine.
Current and former residents and tourists make a point of visiting Montreal's best-known smoked meat establishments, even taking whole briskets away as take out.  Smoked meat is offered in many diners, fast food chains and restaurants around Montreal.
Some popular smoked meat establishments in Montreal are: Schwartz, Reuben's, Dunn's and The Main.
EC Montreal's calendar of events often includes a welcome smoked meat dinner.  If you want to get a true taste of Montreal, you have to start with a delicious smoked meat sandwich!!
Join our English courses in Montreal and get a savoury taste of Montreal with EC!
Comments
comments