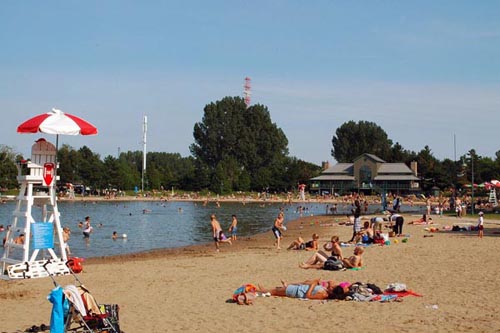 Parc Jean Drapeau is a beach located on St. Helen's Island only 5 minutes away from Montreal's city centre.  It is accessible by metro, car or bike.  St. Helen's island is a man-made island made from all the material that was dug up to make Montreal's very impressive 33 kilometer underground city!
The best part of the Jean Drapeau beach is that you can actually swim in the water!  The water is clean and safe to dive into!
The beach also has volleyball nets, a snack bar, lockers, vest rental and beach lounger rentals.
The beach will be open from June 18 to August 23 from 10 a.m. to 7:00 p.m. daily.  The cost of entrance for adults is $9 before 4:00 p.m. and $5 afterwards.
If river water is not your thing, you can get over to the other side of St. Helen's Island and visit the Parc Jean Drapeau pool!
EC Montreal students should look out for outings to the beach and pool on the July and August calendar of events!
Come learn French in Montreal with EC and see how life's a beach in Montreal!
Comments
comments