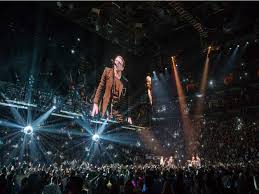 U2 is in Montreal for 4 shows at the Bell Centre.  Last night was the first performance.  All 4 shows have been sold out for a while.  Montrealers love U2 and the feeling is mutual.
Last night's show was incredible and what made it extra special was how Bono engaged with the audience.  He called Quebec La Belle Province and went on to say that Montreal is a sexy city!  The crowd went crazy!
Bono also impressed the audience by speaking French!  He described his songs and shared some of his political and moral views en francais!  They even had French quotes up on the video display.  These little touches were felt as grand gestures to us in the audience!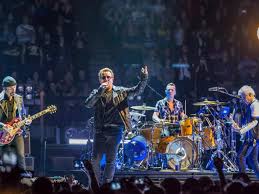 U2 played a nice mix of their new album to some of the classic U2 hits that everyone adores and jumps up to!
There was no opening act.  U2 played for 3 straight hours.  They came out for one encore that consisted of about 5 songs!
We are fortunate in Montreal because celebrities and artists love to visit us!  We always have the best concerts and receive the most amazing praise from the performers. . They always say how much they love coming to Montreal.  In Bono's words – "Montreal is the hottest city in North America".
Join us at EC Montreal and you will surely get to see some fantastic shows from some very famous artists!  The shows are non-stop and the action never ends!…you may even be fortunate enough to spot a celebrity during your stay!
Join us and learn French in Montreal with EC so you can speak French as well as Bono!!
Comments
comments