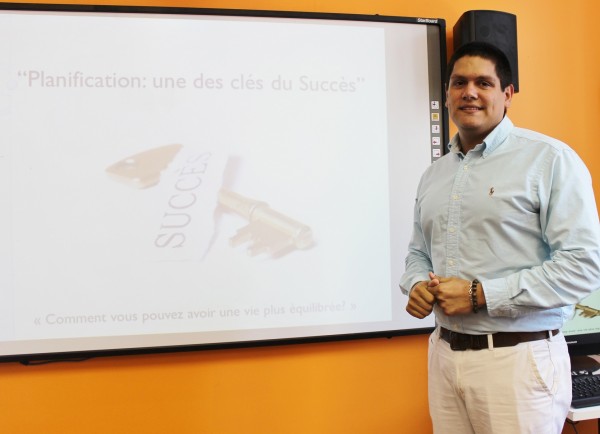 Jose Gabriel is a student from Venezuela enroled in EC Montreal's Semi-Intensive Bilingual programme which consists of 24 Lessons per week.  He has been here to learn English and to learn French in Montreal since January 10, 2015.
Today, Jose Gabriel presented as part of EC Montreal's Student Academic Lecture Series.  He gave his presentation in French.  We were all very impressed with his articulation, pronunciation and vocabulary!
He chose to talk to us about the key to success.  He explained that success does not just happen that it takes a lot of steps and planning to achieve it, specifically
perseverance, determination, motivation and consistency.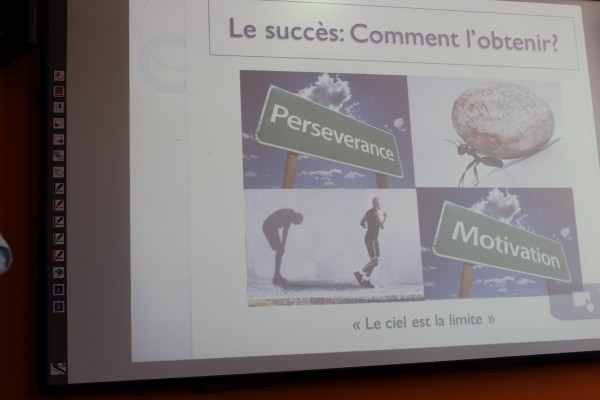 Jose Gabriel asked the audience for examples of their own successes and how they plan to achieve it.  One student from Brazil, Henrique, talked about his goal to become a doctor.  Jose Gabriel asked him how he plans to achieve this.  Henrique said through hard work and consistency.  He said that by the age of 35 he would like to accomplish this goal.  Jose Gabriel congratulated him for having a set goal and a deadline which are key to achieving success.
Jose Gabriel also discussed the differences between a goal and a dream.  He said a dream has no plan, no deadline, no steps, however a goal is more structured.
He ended the presentation by quoting Albert Schweitzer who said "Success is not the key to happiness.  Happiness is the key to success".
Jose Gabriel gave a wonderful presentation – we are so proud of his achievements!
Comments
comments