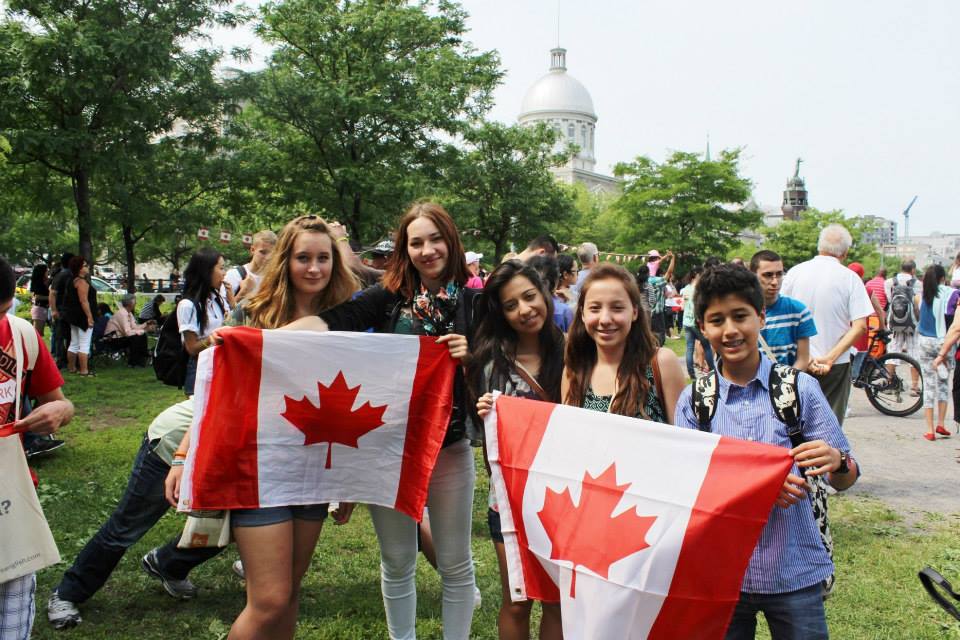 July 1 is Canada Day – which represents Canada's Birthday!  The entire country celebrates this special day and Montreal is no exception!  The city of Montreal has created quite the schedule of activities and events this holiday!  All activities will take place in Old Montreal, especially at the Old Port and around the Clock Tower.
From 11 a.m. to 12 p.m. 25 families will be sworn in as Canadian citizens.  This is always a very touching and moving ceremony to be a part of.  These families are so proud to become citizens of this great country!  The ceremony will be followed by the military marching band from the Canadian Armed Forces.  They will then raise the Canadian flag and they will all sign the national anthem.  – we recommend you bring tissues.  There will not be a dry eye in sight!  No matter how many times I have witness this ceremony, I still get goose bumps and cry like a baby!
At 12 noon, all the new citizens and 2000 of their closest spectators will be treated to a slice of the traditional Canada Day cake!
From 12 p.m. until 4 p.m., 21 traditional cannon shots will mark the day of celebration.
Picnic areas and food trucks will be set up for everyone to enjoy their own celebrations and to enhance everyone's festivities!
The evening entertainment will surely be grand like every year!  No matter what the weather will bring, there will be concerts, shows and fireworks for everyone to enjoy!
EC Montreal's teen language adventure will be spending the afternoon at the Old Port of Montreal and participating in all the Canada Day festivities!
Our adult EC Montreal students have an opportunity to take a trip to our Nation's Capital, Ottawa, to celebrate Canada Day with Iko Tours!
Whatever you choose to do on Canada Day, have fun and stay safe.  For more information on the Canada Day festivities in Montreal, check out the following website:  http://www.canadadaymontreal.org/
Join us to learn French in Montreal and get a taste of our fabulous city!
Comments
comments