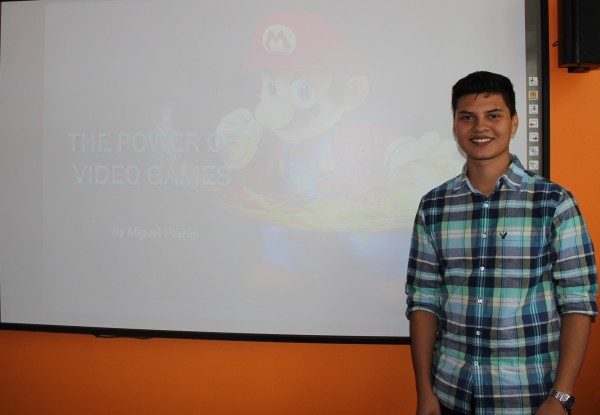 Miguel Plazas is a lovely young man from Colombia participating in EC Montreal's Semi-Intensive Academic Year Programme.  He began his studies with us on January 26, 2015.  Miguel is only 17 years old yet he is a very mature and responsible student.  Not only is he one of EC Montreal's student ambassadors, but he also volunteered for Languages Canada's World Student Day event.
Miguel will be completing his studies at EC Montreal on July 10.  We will be very sad to see him go.  Before his departure he wanted to give a presentation as part of our Student Academic Lecture Series.
Miguel chose to talk about the Video Game industry.  His presentation showed the history of video games, the different games that were invented throughout the years as well as the different careers one can have in the this industry.  We learned that there are professional gamers who get paid to play. There are also video game tournaments where the winning teams can win close to 1 million dollars.
Miguel gave a very entertaining presentation.  He was dynamic, expressive and showed very strong communication skills for such a young age.
We are so proud of all of the achievements Miguel has made throughout his journey at EC Montreal.
Join our English classes in Montreal and learn how to give a winning presentation!
Comments
comments