Marina Taddei is a student from Brazil who came to Learn English Abroad in Montreal at EC in the Junior Programme.
Here is what she would like to share about her learning experience at EC Montreal: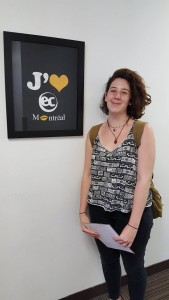 I chose Montreal because it was easier to find a place to stay.
I learned a lot about many different cultures, specially the Canadian.
I feel that I improved my fluency, vocabulary and listening.
I really enjoyed the ice skating. It was really fun.
The teacher, Heather, was incredibly nice and patient, also very professional.
I wasn't at the homestay, but my accommodation at the EC was the whole time very good, people were always nice and attentive.
Most of my friends came from Germany, but also Turkey, Taiwan and Arabia.
The monitors were always friendly and professional.
I'll remember the awesome conversations I had with a lot of people, specially the ones from EC.
*P.S. I always wanted to say thank you specially for Anh Thy, who was very nice and attentive
Comments
comments