Luiza Silva Maciel de Araujo is a student from Brazil who came to Learn English Abroad in Montreal at EC in the Junior Programme.
Here is what she would like to share about her learning experience at EC Montreal: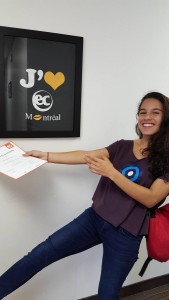 Well, I chose Montreal, because my sister lives here! The classes are very good and interesting, I have improved my vocabulary and fluency. The best activity for me was the jet boating. My new friends are from Germany, Taiwan, Turkey and Italy, and the friends that I made is what I will remember forever! I liked EC and I would recommend to a friend, the only thing that could be better is the organization of the guides.
Comments
comments