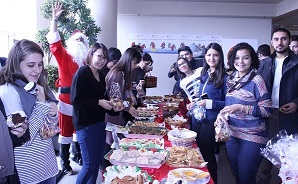 EC Montreal held its 13th annual charity bake sale on December 9.  We continue to raise funds for the Shriner's Hospital for Sick Children.  When we visited them several years ago we were so impressed by the work they did and the care they give to children all over the world.  There were also so appreciative of our fundraising efforts that we decided to devote our time and money to this compassionate institution.
Last Friday was a full day of giving.  We began with our bake sale at 10:30 a.m.   Staff, Homestays and teachers baked or bought sweets to be sold.  We had so many wonderful goodies!  They were beautifully displayed and looked too good to pass up!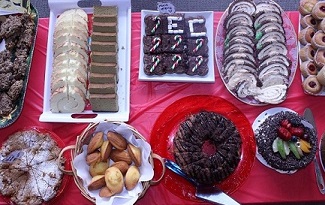 We also sold raffle tickets to win amazing prizes!  The prizes consisted of beauty products, wine bottles, gift baskets, movie tickets and other goodies.  The prizes were all donated by staff and vendors we work with.  We pulled out the names yesterday and will be surprising the winners today!
A nice surprise for students were the I love EC Montreal t-shirts we had printed to be sold at the fundraiser!  They were a big hit!
At the end of the day we added up all our earnings and are happy to announce that EC Montreal raised a little over $440 for the Shriner's Hospital!  A world of thanks to all the staff, students and homestays who generously donated!
I am sure our students taking English courses in Montreal would agree that giving feels so good!
Comments
comments