Natalia Banoy Restrepo is a beautiful young lady from Colombia.  Today was her last day at EC Montreal.
Here is what she wanted to share with everyone: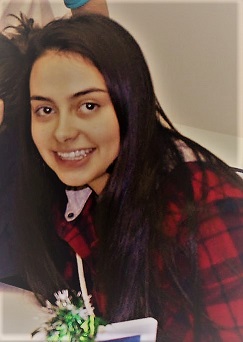 First of all, I have to say that I'm really happy with the experience I had at EC Montreal.  I chose it because it was the closest, safest, coolest and most beautiful place where I could practice both my English and French.
I learned so much from grammar to vocabulary and even life lessons which I think are more valuable than anything else.  I know that I improved a lot my writing and talking.
My favorite activity was building gingerbread houses because I've never done it before and because I was with my friends having so much fun!
The thing I liked the most was when classes had different and dynamic activities like games, presentations, videos, debates, group activities, etc…
My host family was AMAZING!  They were so kind, funny, friendly and helpful…also, the food was great.
I would recommend EC Montreal to my friends from all continents!  Everybody was always so kind and friendly!
I will always remember my favorite teachers, the things I learned and all the new friends that I have made!
Comments
comments