Noriko Hongo is a student from Japan who came to EC to learn English in Canada.
Here is what she would like to share about her English courses at EC Montreal: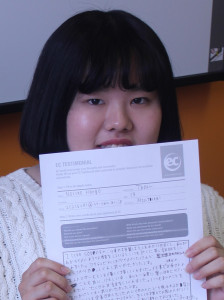 I like Sobhan. His lessons are very easy to understand. If I was looking confused or having a hard time in class, he always approached me and explained to me. Although there were not many in class activities, I'm very grateful that he spent enough time to go over the grammar content in class.
My host mother was very nice to me. Although she has a very schedule with her work and taking care of her mother, she even took the time to go shopping with me, we always had nice conversations together. She always took good care of me, and I want to say thank you.
Because is Boston there were only Japanese students, so I was a little shy about speaking up in class here at EC. But it was very motivating to see students from different countries working hard to learn English. Thank you!
Noriko Hongo
Comments
comments