We are blown away by the testimonial left by our student Gabriel Khattar.  Today is his last day at EC Montreal.  He has been an absolute joy to have around.  We still fondly remember the amazing presentation Gabriel gave on the firefly and how much we learned from him.  We were impressed by his scientific mind and his ability to really engage the audience during his talk.
He wanted to share his experience and give praise to all those EC staff members who made his experience so much better!
Here's what he had to say: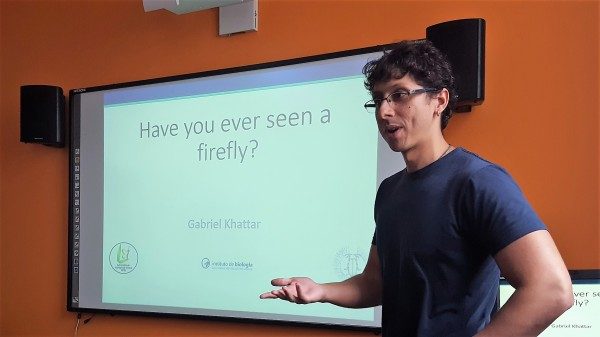 Throughout these almost six months that I have attended in EC, I had the opportunity to meet an excellent staff which gave me all the support that I needed to improve my English skills. Therefore, I would not be able to give a score below 10 to you guys! Thank you very much for the amazing experience.
Definitely, the teachers are roots of all the outstanding experiences that I have had in EC. Therefore, I would like to say that I will be eternally grateful to Souha, Valerie Voyer, Cinthia Machado, Frederic, Pooria and Maria Elena. Thank you guys!
Despite the fact that is impossible to transform good feelings into words, I will try to do it just because I think that Valerie Vieira deserves all the positive feedback. One might say that angles are just mythological creatures which inhabit the dreams of poets. Before my first day in Montreal, I had had the same opinion. But everything changed when I met the most wonderful, kind, generous and, therefore, angelical person that I have seen in my life. Now would say that I believe in angels just because I have met one of them. Her name is Valerie Vieira. Here, I am not going to talk about the amazing food or the amazing accommodation that I had here. I think I have already done that in completing the survey. Actually, I would like to use this space to describe everything that I have learned with Valerie. Indeed, within these 24 weeks, I had the opportunity to live with a person who taught much more than English. Indeed, Valerie taught me that life might be tricky some times, but if you are persistent and resilient, you will manage to achieve your goals. Moreover, she taught me that unconditional love rather than bad feelings should guide our lives, especially when you are facing difficult moments. Finally, she gave me several daily examples that generosity and honesty are the most powerful way to change this tragic world that we are living. And do you know how she managed to teach me all this? She did it because she emanates love and good vibrations to every person who has the luck to know her. I do not know whether I am going to come back to Montreal, but I do know that I will carry Valerie Viera in my heart forever. She is a blessing to this mad world. Valerie is a beloved friend and the primary reason why I will never forget the amazing experience that I have had here in Montreal. Thank you for everything Val.
Click on the link, if you want to learn English in Canada!
Comments
comments