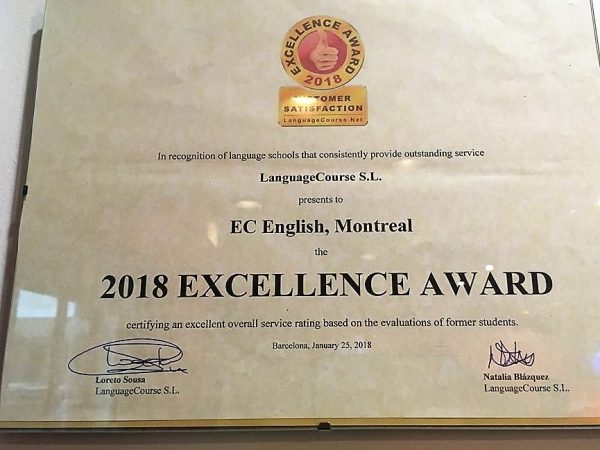 EC Montreal received a very special surprise in the mail yesterday.  We received an excellence award from Languagecourse.net, an online travel site.  The letter congratulates EC Montreal as only the best schools receive the Excellence award.  The go on to further explain that the feedback from our clients showed that our schoold did excellent work in providing outstanding customer service to our clients last year.
EC Montreal has an overall rating of 4.33 out of 5.
It is always so wonderful to receive such acknowledgement from a third party.  The customer experience is very important to us at EC Montreal and it is extremely satisfying to learn that our students do indeed appreciate the service we offer them at the school.
At EC Montreal, we strongly believe that what happens outside the classroom is just as important as what happens in the classroom.  For this reason, it is essential for us to offer quality in all service areas; activities, accommodation and administration.  We only recruit employees who feel feel love what they do and strongly believe in providing excellent customer service.
Thank you to Languagecourse.net for the wonderful surprise this week!
Join our EC Montreal English language school!
Comments
comments