Juan Jose Sanchez Villalobos (JJ) has been EC Montreal's student ambassador since January 2018.  He has been a big help to our EC Montreal staff in welcoming new students, getting students to vote for the teacher of the month and promoting our EC activities.  He celebrated his 18th Birthday with us at EC Montreal recently.  Despite his young age, he has been so mature, well-mannered and responsible.  We know he will be a huge success in whatever he chooses to do with his life.  We will miss him dearly and look forward to his return in Montreal!  Today was his last day at EC Montreal.  Here is what he wanted to share with everyone: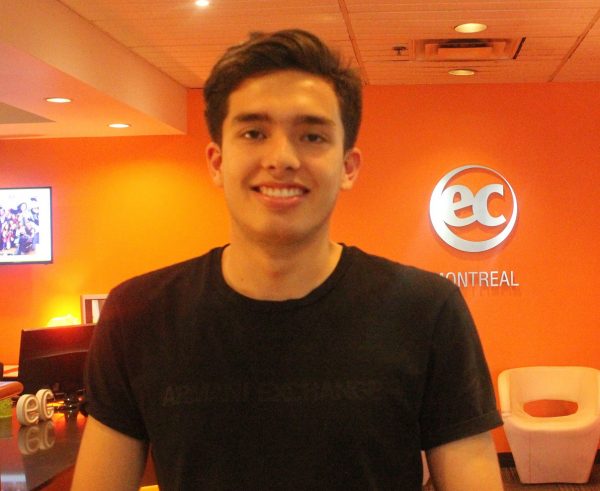 I have been in Montreal since January.  I decided to come to Montreal because of the cultural experience.  Being here made me realize it is the perfect city.  It is not too big, not too small, full of festivals, but the most important thing is it is full of great people.
EC is the best school not only the classes, also the activities that help you to interact and make friends, friends that will be like your family while you stay in Montreal.  I have learned a lot of things, but what I love the most is that teachers teach not only the language, they teach you the language's history, Montreal's history and wonderful things about being here.  
Classes like "English in the City" are the ones that make you enjoy, learn and discover new places and fall in love with this wonderful city.
I will always remember teachers like Shayan, Pooria and Yasser.  These teachers were the best classes with fun activities and the best attitude at the moment they are teaching you, but the most important thing, I will always remember the greatest moments I lived here.  Here, I was happy and I am very thankful to those who shared with me.  I hope I can come back soon!
Check out our Montreal English Language School.
Comments
comments