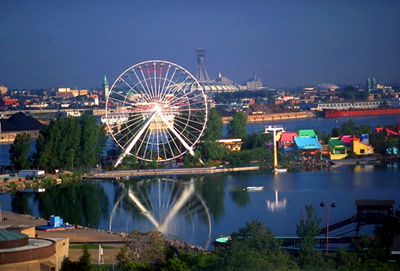 Nuit Blanche is coming back to Montreal!  The last Nuit Blanche event took place 10 years ago.  It will be taking place at La Ronde this weekend.  Nuit Blanche means a sleepless night.  The whole point is to party all night long!
The after dark event will be filled with lights, dancing, drinking and of course, amusement park rides! The event is for adults only, so EC Montreal students attending should make sure to bring picture idea proving they are 18 years or older.
Dance the night away! Artists that will be performing at this eventinclude: Karim Ouellet, Alaclair Ensemble, DJ ShortCut, Lary Kidd, High Klassified, Mike Shabb and Planet Giza.
Get your adrenaline pumping by riding the roller coaster at night!
Most of the amusement park rides will be running.
The event is taking place on Friday, September 21 from 9:00 p.m. to 5:00 a.m.  You can party until the sun comes up and go out for Saturday breakfast with your friends!
Tickets are $46.99 and are available from La Ronde's website or at the ticket booth.
Experience Montreal by studying at our Montreal English language school this Fall!
Comments
comments