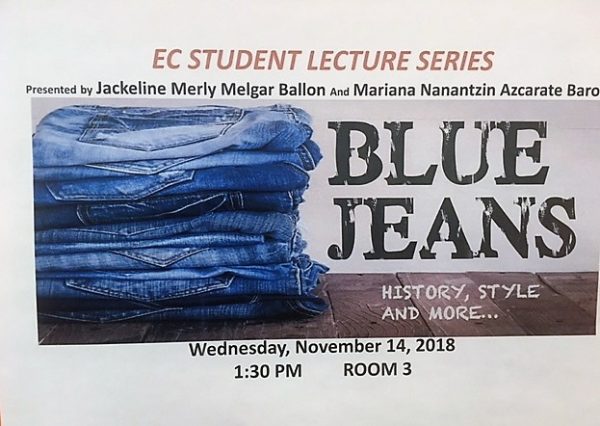 Jackeline Merly Ballon and Mariana Nanantzin Azcarate gave a presentation today as part of EC Montreal's student academic lecture series.  We encourage our students to show off their newly acquired language skills by giving a presentation on a topic they are the most passionate about.  At EC Montreal we teach presentation skills and instill confidence in our students.  We encourage them and work with them to deliver stellar presentations to the rest of the school.  The English elective classes are encouraged to take their students to the presentation so they can give support to the presenters and also practice their listening skills and note taking skills. Today Jackeline and Mariana made us very proud by delivering a presentation on blue jeans.  They spoke about the history of blue jeans as well as the impact this industry is having on our environment and the world labor force. They began by asking the audience how many blue jeans they owned and why they are so drawn to blue jeans.  Many of the students answered that they own more than 5 pairs of jeans.  They explained that the average American owns 7 pairs of jeans.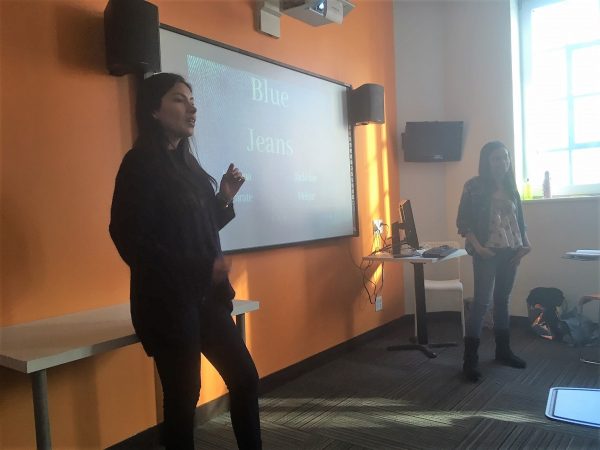 They talked about the history of jeans.  They bean in 1871 by Levis Strauss and Jacob Davis.  They were invented because miners needed strong clothing.  They were mainly used by miners and farms until 1950.  In 1950, James Dean became the "bad boy" symbol and his jeans became very popular.  Male celebrities began wearing blue jeans.  In the 60s and 70s, they were the wardrobe of choice of famous people and the hippy movement. Today, they are worn by all people of all ages, genres and genders. They further explained that the jeans industry is having a huge impact on our environment.  Jean manufacturers are contributing to the world's pollution.  In addition, most jean manufactures employ child labors. They ended their presentation by encouraging everyone to only buy blue jeans when absolutely necessary and to recycle their old jeans.
They divided the students into groups of 5 and gave them supplies and blue jeans material and asked them to refurbish the piece.  They came up with great ideas such as suspenders and wine bottle holders. Although Jackeline and Mariana are still at the Intermediate level of English, they gave a wonderful presentation and really entertained the audience.  We are very proud of their work!  Keep it up girls!
Learn a new language at our Montreal Language School!
Comments
comments