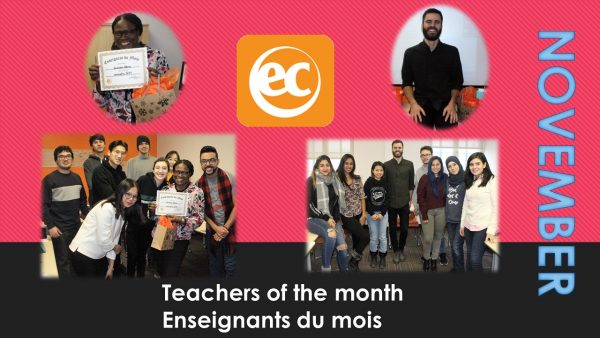 The ballots are in and have been counted!  We are thrilled to announce EC Montreal's November teachers of the month!  Every month, our students have a chance to cast their vote for their favorite teacher and to write down comments about them.  It always makes us so happy to see that every single one of our teachers receives votes and it warms our hearts to see how very much our teachers are appreciated.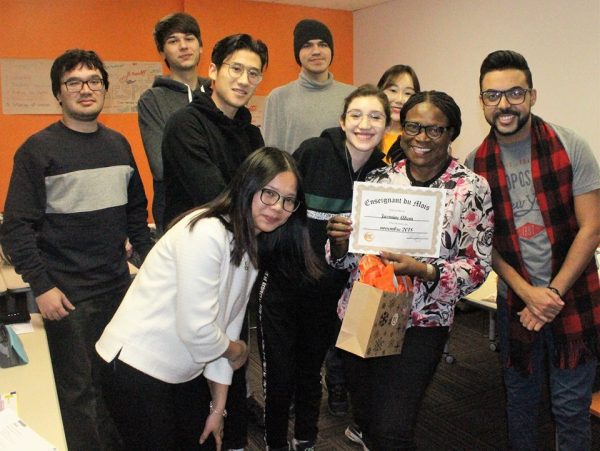 This month, our students voted for Fred Paiement as the English teacher of the month and Jasmine Akem as the French teacher of the month!
We surprised them in class with a teacher of the month certificate and gift.  The students cheered and posed proudly with their teachers.  We want to thank all our teachers for their hard work, dedication and passion.  It is clear our students think the world of you all.  Thank you to all the students who voted and for all your wonderful comments.  We are happy to share them with everyone below: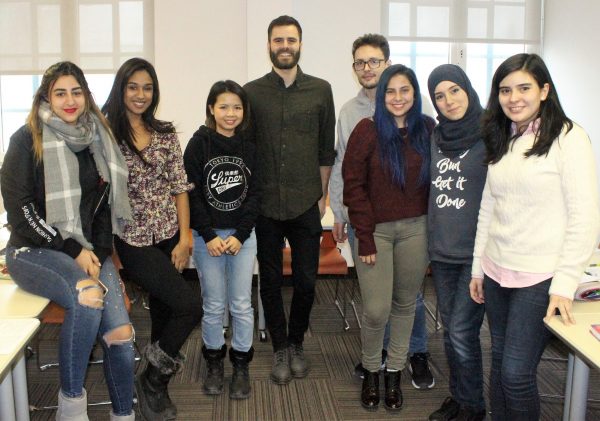 Good teacher.
She's patient with everybody.
She's the best!!
Always take every lesson very seriously and makes reviews during each class.
Her classes are interactive and never boring.
She teaches well.
She listens and shares.  She is kind with all the students.
I am satisfied in her class.
She teaches English with fun and always in a good mood.
I like her teaching style.
He is patient and creative.
He pushes students badly and is awesome.
Great classes.
He prepares us.
He's so handsome.
It looks like he enjoys his work and he does it as he should.
He knows how to do his job.  He teaches very well.
He is kind, nice and handsome.
He cares about his students and his way to think is good.
He's a real teacher and he knows how to teach.
He is sarcastic and fun.
I learn in his classes a lot!!
He is the best.
He is very kind.  Thank you for your kindness!!
She is teaching very, very, very well!
She explains to me what I need.
My teacher was every day kind and friendly.  I think she is the most favorite teacher for me.
Careful class.
It is not boring with her.
She is a good teacher.
Best teacher ever!
Funniest guy ever.
Bzzzz
She teaches so well.
I learn a lot in his classes.
I like his classes.
She is a nice teacher.
Learn English and French in Montreal and meet our great teachers!
Comments
comments