EC Montreal holds a focus group with our departing students every week.  We love to hear what our students had to say about their EC experience.  We use this information to improve our services.  Our goal is to make the student experience as memorable and enriching as possible.  This week, we met with students from Brazil, Japan, Switzerland and the United States.  We are delighted to share their feedback with everyone: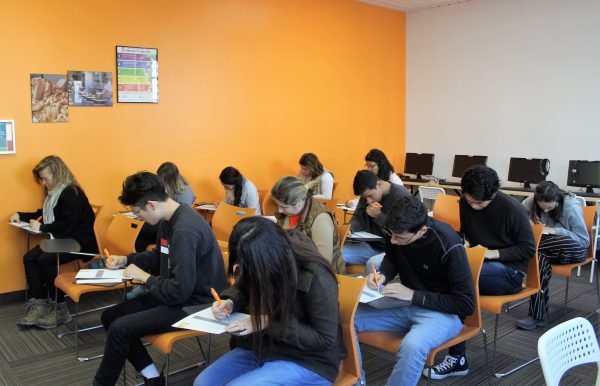 Sarah Leal Fritsche From Brazil
First of all, I really liked the school because I have learned lots of things here, especially French.  I think EC helped me to improve my language skills and it also provided good activities.  Being part of the school, as a student, was a great experience and I am glad I chose to study here.
Ana Paola Sganderla From Brazil
I chose EC Montreal because I like the city of Montreal.  I learned a little because my time was short. I liked the teachers and the classroom.
Wataru Fujisaki From Japan
I have learned English at EC.  I think speaking and listening is a task for Japanese people.  We have learned English for 6 to 10 years in school back home, but we never get the opportunity to speak English.  My purpose was speaking and I am satisfied to speak English because my friends who know my first English skills said to me "you are crazy about improving your English speaking".
Francine Tromm From Brazil
I have known EC school from my other experience in Canada and it was very nice because of that I chose EC again.  I think that I improved a lot, most as a speaker.  The first day, the Sunday activity, was very nice to get to know other people and friends.  I loved my accommodation.  It was like I was at home.  Gloria spoke French so we could improve more our listening and speaking.  I would recommend EC.  I will remember that now I can understand more when people speak French even when it is fast. hehe.
Pontian Peter Hotz From Switzerland
I chose Montreal because I was here as a young kid and I wanted to come again as a grown up.  The school facilities were great and the teacher was also super.  I met many new people and friends.  I would also want to thank Marc Girard and Chantal Fournier for their amazing hospitality.  I am lucky to stay at the homestay of the winning homestay family of the year!
Rebeca Salmon From the USA
The teachers were great, engaging and really created situations for learning and talking.  Great work!  The school was well organized and efficient.
Barbara Bolzam From Brazil
I have been at the EC Montreal school for just 2 weeks, but I really enjoyed everything.  I liked all of the teachers and my classmates.  I will miss everything!
Come to Canada and improve your English in Montreal!
Comments
comments