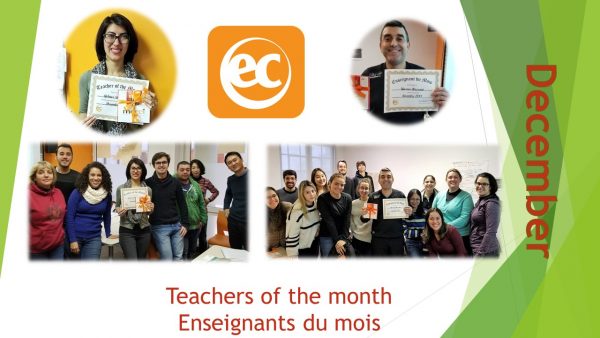 EC Montreal announced its December teachers of the month today!  We have been collecting ballots from our students since before the Christmas holidays.  Even though December is one of the quietest months of the year, we received so many votes from our students.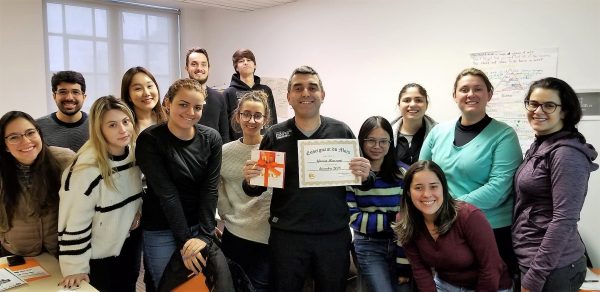 The December winners were Golnaz for the English programme and Yasser for French.  Yasser has won several times in 2018, however, this is Golnaz' first win!  We are so incredibly happy for both of them.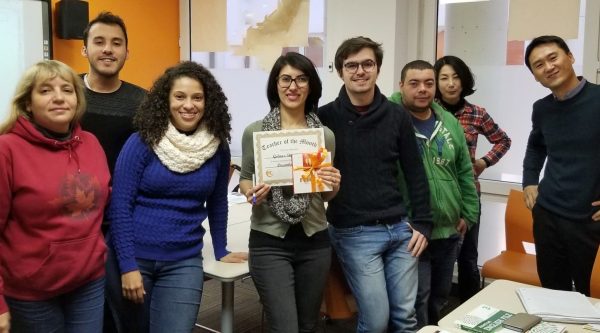 A world of thanks goes out to our students who took the time to cast their vote and to write so many wonderful comments about their teachers.  We are delighted to share them with you below:
She is very clear in her classes and she likes help students
She is great and is very attentive with us
She's clear with all
She energy is so good!  She's so funny
She is a good teacher who is really kind to students
Because she gave helpful and useful English pronuntion to our
Because is very dynamic
Very kind and friendly ❤️
Because she is friendly and happy.  Her class is didactic and she know and help her students
It's the best teacher
Her class is amazing and her explanation is the best
She's funny
When I'm in a trouble, she comes to me and helps.
Very friendly, polite…
Professional, friendly
Great didactic, motivation, cool subjects and very fun. Thank you ❤️
I like the way her teaches and she is so kind
She teaches us with passion
Because she teaches very well and quickly
She is a great professional
She use a lot of vocabulary when she's teaching us.  Also she told us many detail, by use her knowledge
She's really good with the classes and to understand my difficulties
Conduct very well the class
She teach us or give us advice to improve our English skills
She teaches in a very useful way and she's a very interesting person.  Good luck!
Because she explains very well. Is attend and her classes are interesting and dinamics
She is my professional, she devotes a lot times the students! She is very positive
She is assertive and her classes are useful
He is very polite and he has a great teaching
Très captivant
Drôle, sympa, et ton classes son très interessants
Il est plus dynamique
He send us videos, sites, in the email, he is the best at teaching, interacting and he's really comprehensive
Gentil, faire des classes intéréssant
Il est le meilleur, t'aide avec quelque chose que tu as besoin
Parce que il est très intelligent et amusant
Because il est le meilleur❤️
Because he gives us a lot of examples related to our work field
She is strict to student and teach the class seriously
She is nice and patient
Cause she's our No. 1 !
She is a really nice teacher.  She is very patient and kind.
Elle est très patiente et très gentille
Because she's very patient
She has a lot of patience and ties to answers all the questions
Everything I've learned of 'French' was because of her!
Very good and fun classes
We can speak very much during class and he let us focus on the class because improve speaking, grammar
He's very enthusiastic and is always in a good mood
Because to feel his energy activates me honestly. He put a smile on our face all the time!
Good lessons and funny
His facial expressions are awesome!
Interesting
She is well teacher
Is very patient and nice
Because she explain me all the time
She is friendly and she understand our limitations and help us to improve our English
She's one of the best teachers in school, she's always try her best to help us in learning
She offers us interesting, funny and great lessons
Politely. Kindness and give me some coffee!
She's class is useful for daily conversation or living
Because I really liked her explanation, she is so kind! I loved it!
She interesting
Because she explain all
She's a really good teacher, funny and explains really good
She's easy going, patient
Because he always kindness do explain about English and every day positive J
Because he is very friendly and witty
Because in his class is very funny and happy. And he is kind to help me solve the problems
Patient! Attentive!
He is very kind
Because he always is focused on all students and kindly.  Also his class isn't boring.  I always enjoy to study class
The facial expressions wake me up in the morning, and the classes are really interesting
Professeur spectaculaire
Parce que elle est très didactique
Because her classes are amusing and fun.  She's a great teacher!
Enthusiastic
Patient and happy
She is really funny!
Le meilleur
She's very active and funny.  She pushes me to practice more.  I like her class
Parce que j'aime sa didatique
Because she is a great teacher
She makes me put effort during her class
Very nice
He's interesting and pretty
Is cute, is very nice
Because teacher very patient.
Il est très culturé et il a beaucoup de didatique pour enseigner
I've learnt a lot from him in just 1 month
Because he explains every topic really well.  He is interested in our development and he always makes us give the best of yourself
Il travaille avec du text, les cours sont très dynamiques, le meilleur prof que je avez jamais eu
On apprend des choses très vite et il peut les expliquer très bien; on va vraiment s'améliorer
She has patience to teach well, is available to explain.  I really like her
Because talk very good
Because she is very good teacher
Good teaching
She is a very good teacher!
Good teacher
Really nice, kind
He is always pushing people to learn!
Class is funny and interesting!
She always motivate me through the good skills
She always try her best to teach students and very friendly
She hear me and try to correct mistakes.  Basic, but the others don't
She is so kind to teach when we couldn't understand
Come to our Montreal English School and meet our wonderful teachers!
Comments
comments