Every week, EC Montreal meets with its departing students to collect feedback about their experience.  This feedback is so valuable to us as we use it to improve our services and to give our team the much praise they deserve on a job well done.  It is important for our team to know how very much they are appreciated by our students.  This week, we met with students from Mexico, Japan, Brazil and Syria.  Here is what they had to say about their EC experience: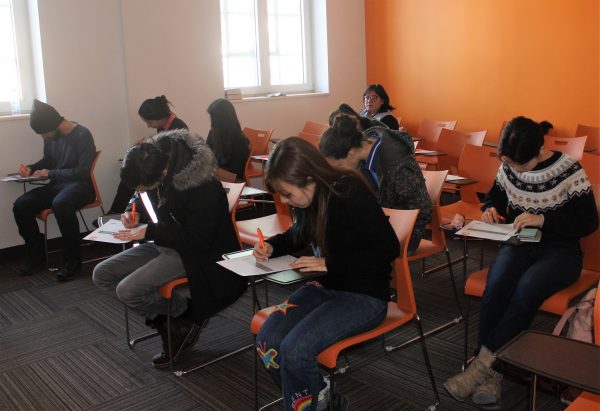 Daniela Garcia From Mexico
I would definitely recommend EC to my friends back home because it helped me to improve my English skills and confidence.  The teachers are the best part of the school.  They are not only kind and fun, they are excellent at solving doubts and always go beyond the call of duty to help you.  I am very thankful to all of them.
Ai Hashimoto From Japan
I chose EC Montreal because I heard that Montreal is a safe destination.  I learned English, like grammar.  I could improve my speaking communication skills in English.  I cold make friends in class and another class.  Sometimes, I hang out with my friends.  My host family is an amazing family.  I could stay there like my real home.  The teachers at EC are very nice persons and the way of their teaching is easy to understand.
Pablo de Amaral Ferreira From Brazil
I chose EC Montreal because Montreal is multi-cultural and is a city where I may live in the future.  I improved my French and discovered many places.  I improved a little bit, but it was because my stay was short.  I know for sure that if I stayed longer, it would be even better.  My favorite activities were the parties because I could talk and meet new people.  The classes were good and the teachers too, however, they should use the book more.  I made a lot of friends from Brazil.
Hend Eskaf From Syria
I chose this destination to study Englsih and to try this experience.  I saw all the pictures posted on social media.  I really liked this experience because I met many friends and I learned many civilizations.  I like how the teachers taught.  I loved the program and activities. Now, I am so sad because I will leave my friends and will miss everything here at EC Montreal.  In the future, I want to come back to EC English to complete my English learning.
Take our general English courses in Montreal Canada today!
Comments
comments