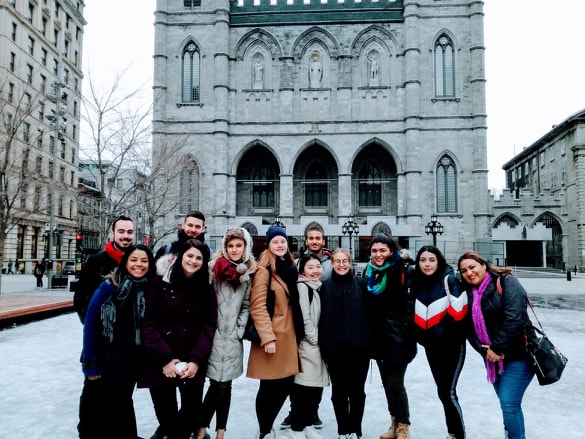 Every Sunday, new EC Montreal students get a tour of Old Montreal as part of our Orange Carpet Sunday experience. Old Montreal is definitely one of the most magical and romantic attractions of the city! It's old European charm with cobblestone streets, sidewalk cafés and street performers add to its charm!
The tour consists of a visit to Notre Dame Basilica, a visit to the quartier des artistes (artist district) and down to the port. Walking along the docks at the Old Port is so exciting. You have a breathtaking view of Montreal's skyline and you can see all the beautiful boats and yachts lined up along the dock. Many people host parties on their boats and it is much fun watching Montrealers celebrating summer!
People can rent out bikes or paddle boats at the Old Port and take a scenic tour along the shore line. A new addition is the big wheel a.k.a. La Grande Roue, it is an enclosed Ferris wheel, which resembles the London Eye in England. At the top you can see as far as the Adirondack Mountains in New York State. You also get a spectacular view of the city of Montreal and the St. Lawrence River.
Old Montreal always has street performers and artists that make it extremely entertaining. You can also find wonderful little restaurants and bistros when you need a break from sightseeing and walking.
Old Montreal is also a great spot to watch the fireworks during the summer fireworks exhibition!EC Montreal students can't help falling in love with Montreal!
Join our English school in Montreal!
Comments
comments