Every week, EC Montreal meets with its departing students to get feedback on their overall EC experience.  We love reading what our students have to say about their time here with us.  This feedback is essential in making improvements to our already superior quality service!
This week we met with students from Brazil, Mexico, Switzerland and Colombia.  Here is what they had to say: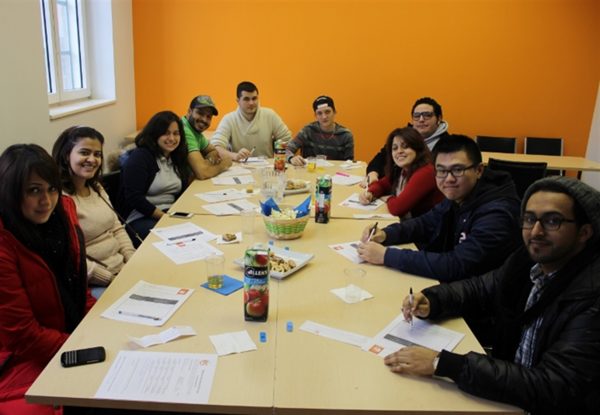 Anonymous from Brazil
I chose EC Montreal because it is a bilingual school.  My first week was in English and I liked very much and even more, Olga's classes.  EC Montreal has very good teachers who can pass the knowledge and the way of thinking in French.It was a great privilege to be here.  A suggestion that I can provide to EC is regarding the structuring of a more intensive course, which could care a little bit less with perfection and more with more knowledge of the language, however, I have enjoyed the courses.  I felt that they could be less expensive in a way so I could enjoy one more month of classes.  Thank you all!
Clelia from Mexico
I chose Montreal because I love where it is situated.  I learned how to speak in fluent way and the meaning of certain words.  Also, I learned a lot of grammatical rules.  I love the calendar of activities and the school.  I would recommend EC to my friends.  I enjoyed my time here!
Anonymous from Switzerland
I chose Montreal because it is not France or the Caribbean and I wanted to be far from home.  I really liked the school, the staff was very friendly and I liked my teachers.  The only thing is most of the activities were in English but I was here to learn French.  My accommodation was great, a very sweet couple who spoiled me quite a bit.  I can't compare really, but I think I  hit the jackpot!  Jorge in the office remembered my name after the first encounter!  This makes you feel very welcome and I have respect for that with so many students he sees everyday!
Maria Carolina From Colombia
I chose Montreal for its multiculturalism and because I could learn English and French at the same time.  I think I improved my English and French and I think that the workshops every Friday are a good idea!  I liked so much the agreement with National Geographic for learning about the life, the earth, the cultures worldwide.  I like so much too my homestay where I can share with people of other cultures and friendly and I can learn a lot of things.  They were lovely people.  I would recommend EC to my friends but maybe tell them that they have to ask first if there are courses just for adults.  The teenagers need more behavior education.  My new friends are from Japan, Korea and Colombia.  I will always remember my teachers like Dariia, Lori, Golnaz, Pooria and Joelle.  My French teachers; Djamel and Yasser are great people.  The staff in the main office help me a lot.  They were very friendly.  I hope to come back!
Comments
comments