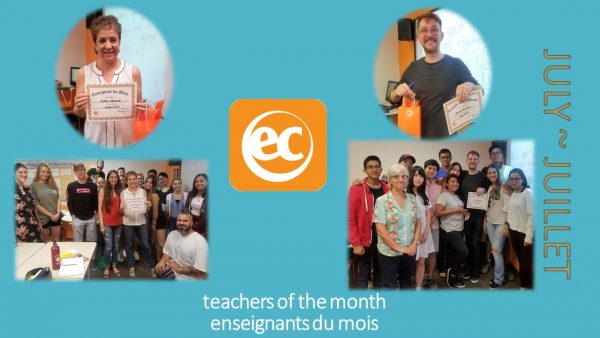 Every month, EC Montreal students have an opportunity to vote for their favorite EC teachers.  Our team of student ambassadors distribute voting ballots to all the students.  They try to collect as many votes as possible.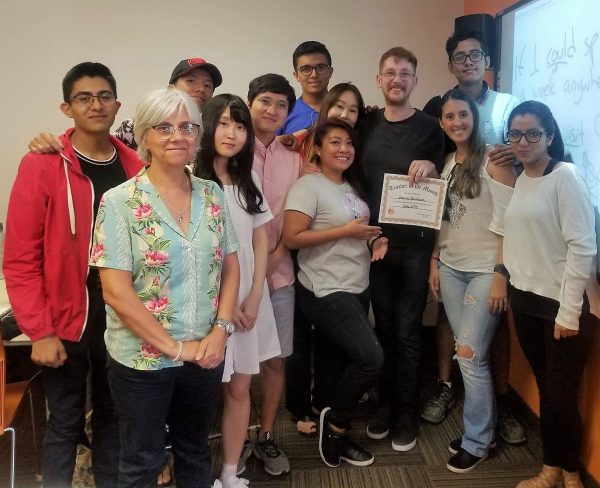 We have counted all the votes and read all the wonderful comments and are happy to announce our winning English and French teachers!  In English, our students voted for our new teacher; Jayson!  He joined us right before summer and is becoming a very popular teacher!  Jayson is also a chef and has lead workshops for students on English and food.  We surprised Jayson in class with a certificate and small gift.  His students were overjoyed to learn their teacher won.  They posed very proudly with the winning teacher!
Next, we surprised the winning French teacher.  This month the favorite French teacher was Fatiha!  She was delighted to hear the news.  Her students were also very pleased for their teacher!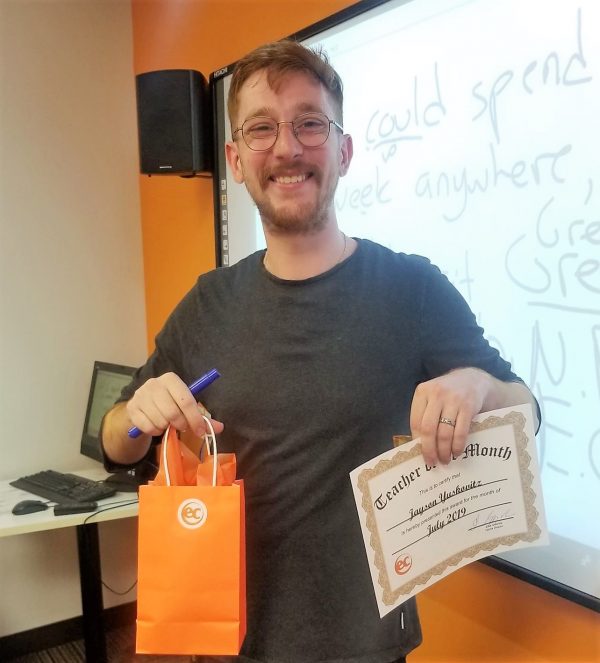 A world of thanks to all the students who voted and for taking the time to write all those wonderful comments about our teachers.  A special thank you to our team of ambassadors; Antonis, Gabriela, Geraline, Karoline and Natalia for getting so many votes!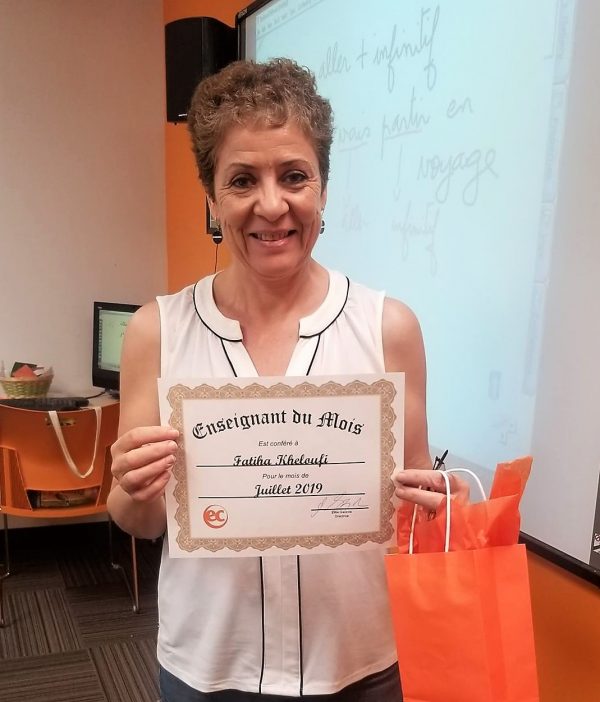 We are so proud to share the student comments with all of you below:
She is the best person in this school, except for me!
She knows my name!
She has different strategies to teach.  Her classes are dynamic, and she explains the grammar very well.
She always explains things to us.
She is perfect.
She is amazing.
She makes the class enjoyable and you can learn so easily.
She is cool.
Elle donne beaucoup d'opportunités de pratiquer le français à tout le monde.
Elle est drôle.
He is the best!
It is very easy to understand his explanations.
He makes the class enjoyable.
He is a good teacher and I can understand him.
She is funny and I understand everything she explains.
She is kind and she's energetic.
She is kind and encourages me to speak English well.  She is such a good teacher and always helps students!
She is great and always solves our doubts.
I like her classes because we play.
She is so nice.
She's so cool and she is always worried about our feelings and learning process.
She is absolutely the best.  She is funny, smart and very kind.
She is very creative.
He is patient.
He teaches the class very well.
He seems to understand what the students need.
He is cool!
She is an amazing person.  I love the way she teaches.
She is very patient and skillful.  She expresses concepts smoothly.  Best teacher I have seen in decades.
I love her class.
She is very kind and is patient.
Il est très educatif.
Il est très simpatique.
He is funny and a good teacher.
He is funny.
He makes grammar interesting.
She explains things detachedly for those who are really into it.
English for Work is a really good class.
She is the best teacher!
Nice explaining!
He is the best!
She gives the better explanations.
Elle est aimable.
She's cool.
She is so nice!
J'aime tout le monde!
I like them all!  They do a great job!
He helps his students a lot.
He teaches very good.
He is the best teacher.
He is the better teacher.
She always makes entertaining classes.
The class is funny and we learned a lot.
Il est très bon professeur.
He explains in a good way.
She really knows how to make interactive class.
She has passion and good explanations.
He is a very patient and very kind teacher.
The classes are funny.
He is too patient and makes so many dynamics.
She is nice and patient.
The class is always funny and she is a really nice person.
She teaches us very good and she is a good teacher.
I can enjoy the class.
She is very nice.
She is funny all the day.
She is an amazing teacher and interactive and also cute.
Elle est très gentille et préoccupée avec les étudiants.
He is the funniest teacher ever!
Comments
comments