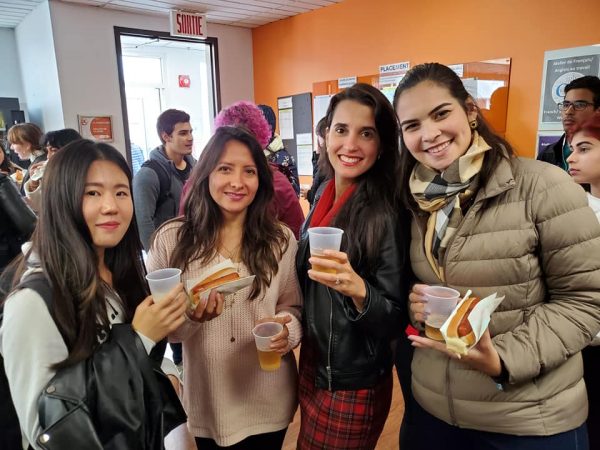 Every Wednesday, EC Montreal plans a special activity for its students.  We call them complimentary activities and they are essential in creating an EC community at the school.  The purpose of these activities is to get our students to hang out after class, interact with one another and practice their language skills.  The activities we offer are a balance of A Taste of Montreal, cultural celebrations, fitness classes and team-building workshops.
This week our activity was an Oktoberfest celebration!  These celebrations are happening all over the city from mid-September to mid-October.  It is a chance to put a spotlight on this German tradition.  It sure made our German students happy to see this celebration!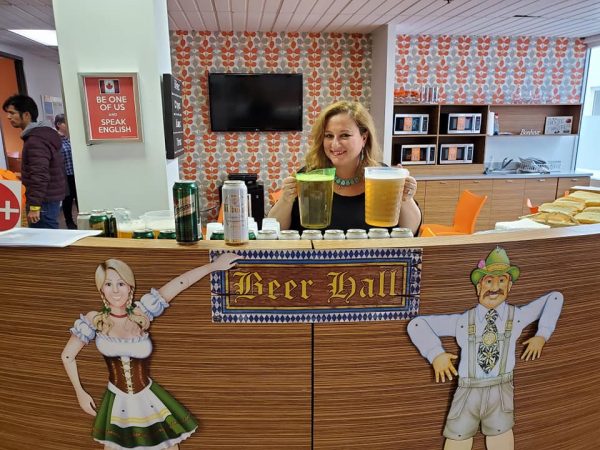 We had Oktoberfest decorations all over the lounge.  We also served German beer, pretzels and sausages with sauerkraut.  We also had the Best of 2019 Oktoberfest music playing on our stereo.  The lounge was such a festive and colorful scene!
The students had a blast mingling and enjoying the very delicious refreshments.  They kept coming for seconds until we had completely ran out of beer and sausages.
We took lovely pictures of our students enjoying the festivities.  They too took pictures and posed for fun pictures in front of the Oktoberfest banners.
This was our first complimentary activity in October and we are delighted that we started off the month on such a happy note!
We look forward to four more complimentary activities in October including a tea and conversation activity next week, followed by fall pancakes the week of October 15, cupcake decorating the following week and ending the month with wonderful a wonderful Halloween party on the 31st!
Happy Haunted Oktoberfest from all of us at EC Montreal!  Prost!
Join us at EC Montreal and learn English and French in Montreal! 
Comments
comments