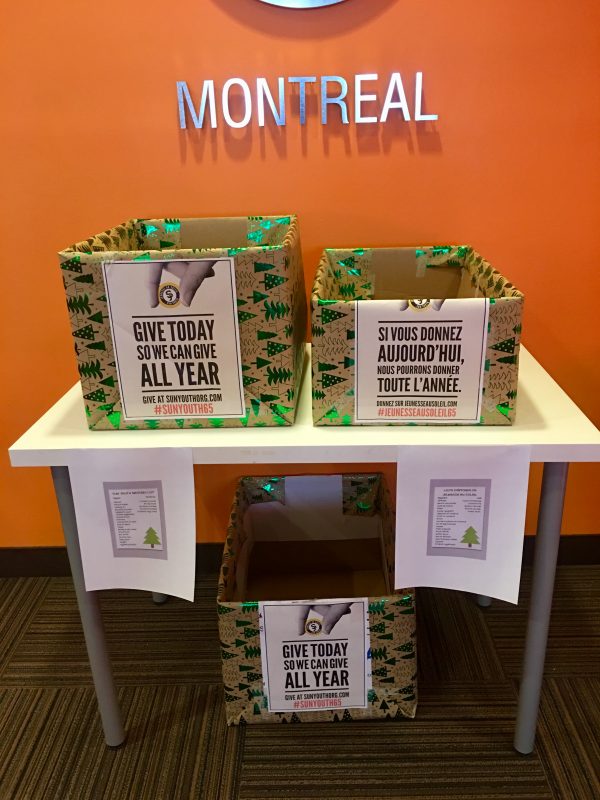 EC Montreal is very proud to support Sun Youth again this year as part of our holiday charitable initiative.  Sun Youth has been taking care of the needy in the Montreal community for the past sixty years by providing to families with a range of emergency services that ensure their basic needs and maintain their integrity.  In addition, Sun Youth actively contributes to crime prevention and provides physical, social and intellectual development of the youth through education, sports and recreation.
From December 10 to December 24, Sun Youth will be handing out Christmas baskets to over five thousand underprivileged Montreal families and nearly as many new toys to their children twelve years and under.
EC Montreal will be helping with this food and toy drive.  The donation boxes are already set up in the office and waiting to be filled.  To motivate staff and students to donate, we are holding our annual classroom competition.  The class that manages to donate the most items will win a class prize.
Sun Youth is asking for donations of non-perishable food items, toiletries and new toys.  They have supplied us with a grocery list to give ideas of what to place in the boxes.  The items include pasta, pasta sauce, rice, legumes, peanut butter and canned fish such as tuna or salmon.  Hygiene products are also highly requested.  These basic foods products will allow families to prepare more meals for their families.  You can also donate money to Sun Youth, so they can continue with the amazing work they do and for them to also purchase other food items that are included in the Christmas hampers like milk, eggs and frozen meat.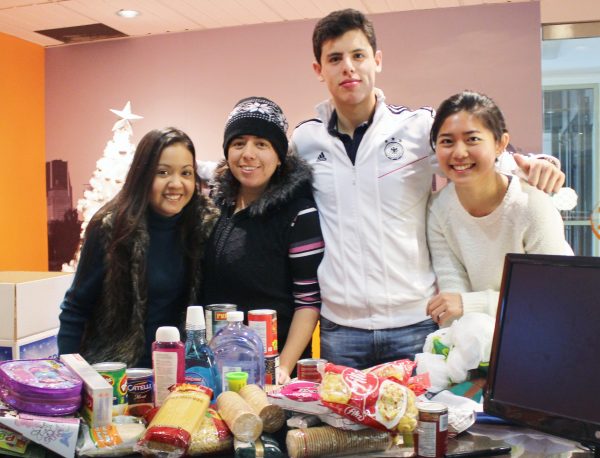 EC Montreal staff and students have until December 11 to make their donations as the boxes will be picked up by Sun Youth on the 12th of December.
At EC Montreal we want our students to feel like they are part of the Montreal community and that includes charitable work and contributions.  A strong sense of community is what we strive for at EC and what better way to bond than having the entire EC Montreal family work together for a good cause.  Sharing the holiday spirit with our students is so very important to us.
In addition, on December 4, EC Montreal will be holding its 16th annual charity bake sale for the Shriner's Hospital.  We are asking our staff and teachers to bring in some baked goods to be sold. All proceeds will be used to support the miraculous work being done at the Shriner's Hospital.  It is the only Shriner's Hospital in Canada.  Children from all over Canada and all over the world come to Montreal for treatments.
This holiday season, please give.  If we all come together, there is no limit to all the good we can do!
At ESL School Montreal giving is always part of our values !
Comments
comments