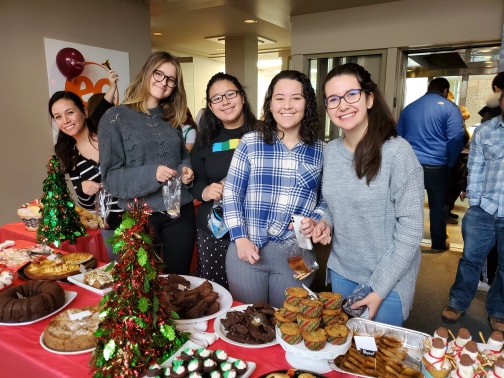 Yesterday, EC Montreal held its 16th annual charity bake sale for the Shriner's Hospital for Sick Children Canada.  It was a whole day of giving and all of the EC Montreal community got involved!  Earlier this week, our EC Montreal team of ambassadors and our activity leader, Nanys, went to all the classrooms to sell tickets to a 50/50 lottery.  The person holding the winning ticket will win 50% of the funds collected.  We raised a little over $150 from this lottery.  This means that the winner can take home $75 or donate the amount to the Shriner's Hospital.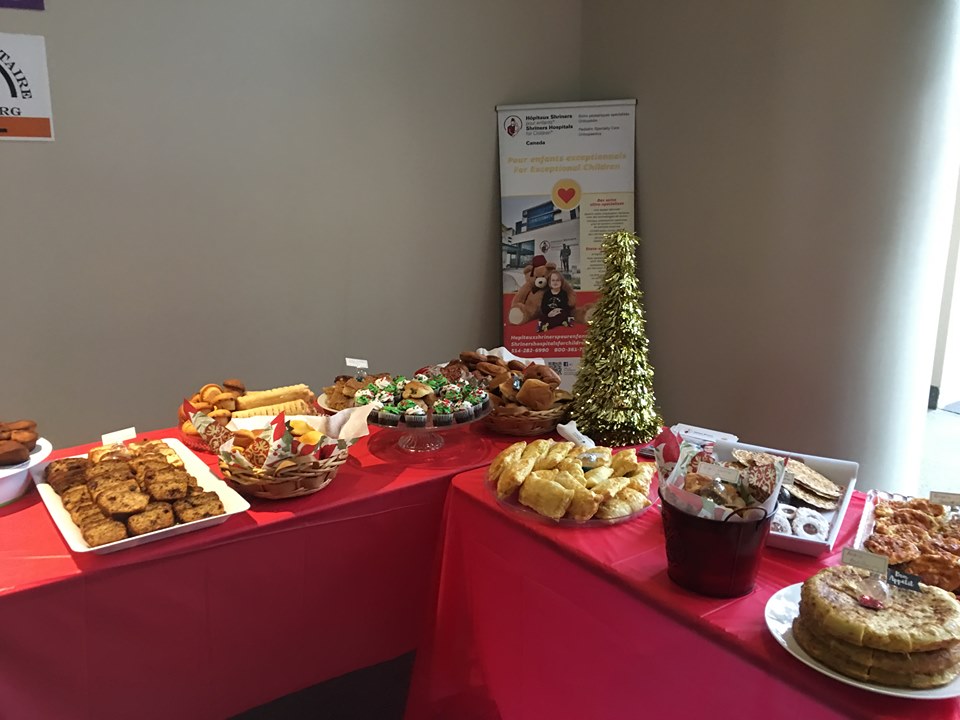 In addition, EC Montreal sent out a holiday newsletter to our homestay hosts asking them for donations to our bake sale as well as our toy and food drive for Sun Youth.  We were delighted to see so many of our homestays getting involved this year.  Many families came by to donate home baked goods.  The goodies made a wonderful addition to our already impressive table of treats!
We also received quite a few Christmas basket donations and held a raffle.  We sold raffle tickets during the bake sale.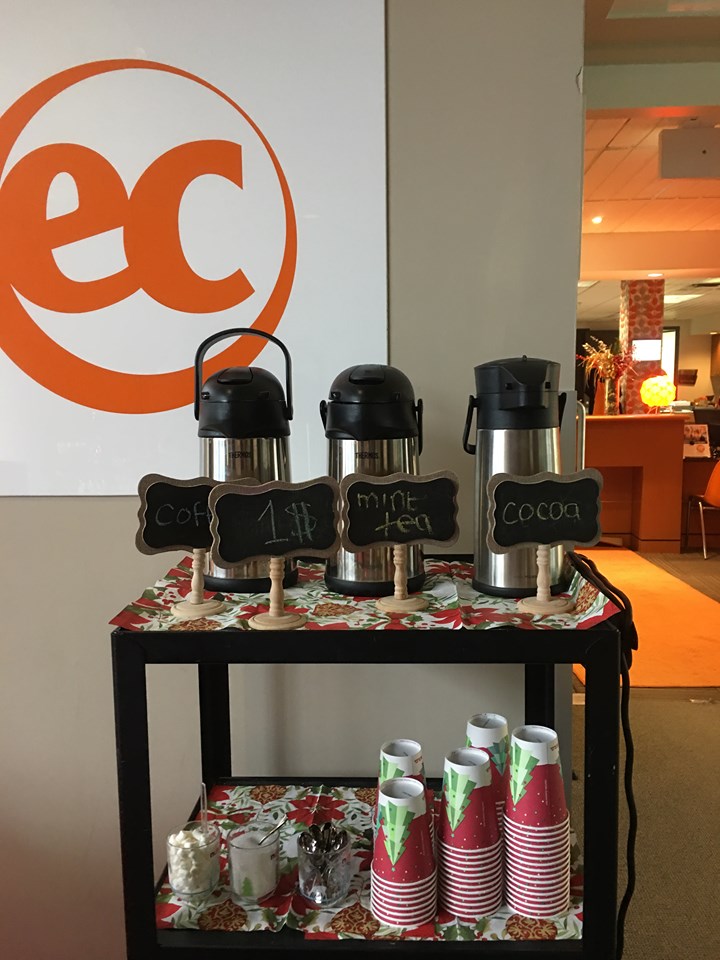 To encourage even more sales, we had a drinks cart serving peppermint tea, coffee and cacao all for only $1 each.
The bake sale tables were set up outside the main office so in addition to our staff and students getting involved, we invited all the other tenants in the building to donate to our fundraiser.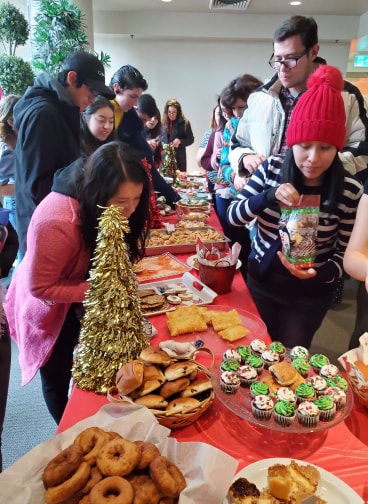 We sold cellophane bags for only $5 each that could be filled to the rim.  Students lined up to make their donations and enjoyed looking at all the beautiful baked goodies.  We had cakes, pies, cupcakes, brownies, cookies, donuts and croissant.  For those who don't have much of a sweet tooth, we had savoury options to choose including quiches, fried chicken, dumplings and puff pastry appetisers.  There was something for everyone!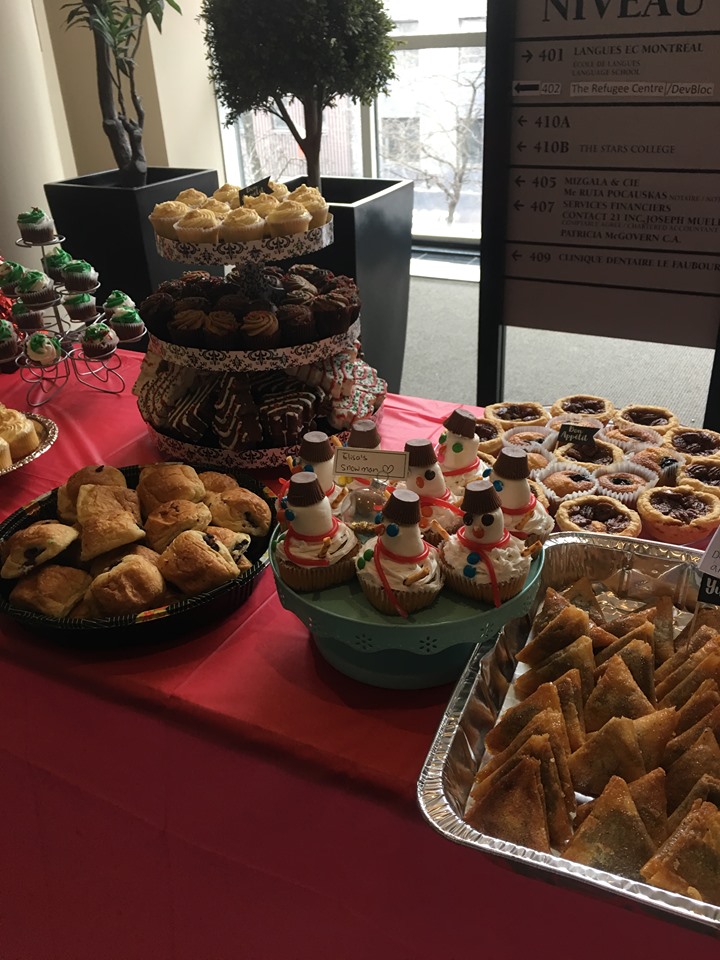 Our student ambassador, Terry, brought his guitar and played throughout the bake sale.  It added something very festive and special to the event!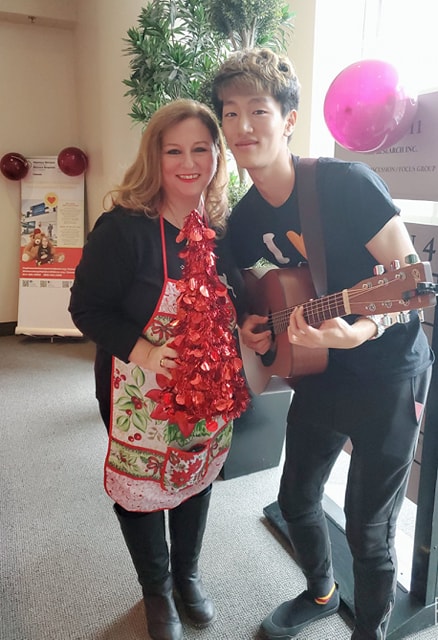 After the bake sale was over and all the dishes were washed, we counted the money from our cash box.  We are delighted to share that EC Montreal raised $680 for the Shriner's.  Our goal was $1000 so we are asking EC to make up the difference so we can donate to the hospital what we had intended.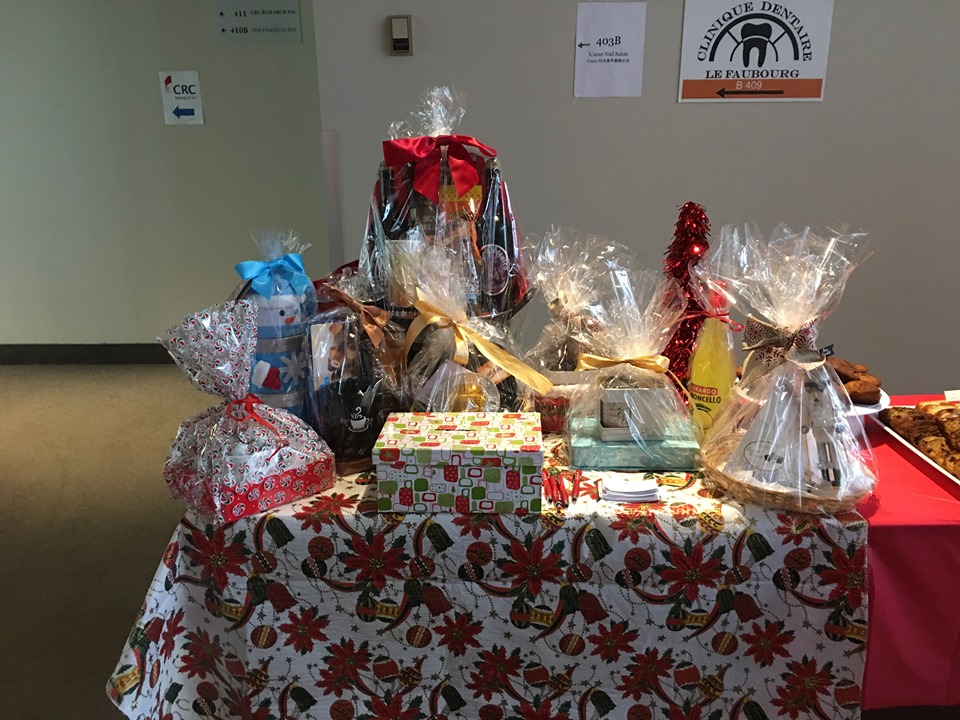 We then pulled the winning ticket  and shared it on facebook.  We are still waiting for it to be claimed.  In addition, we pulled out the winning raffle tickets.  Many of our students won beautiful baskets.  We will be surprising them in class with their prizes today!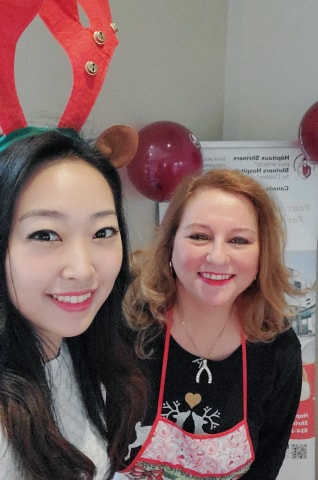 It was a full day of giving and so wonderful to see the entire EC Montreal family working together towards something so rewarding.  A huge thank you to the EC Montreal team for the generosity of their time and all their contributions!
At Montreal ESL School we are always happy to help those ones who need it!!
Comments
comments