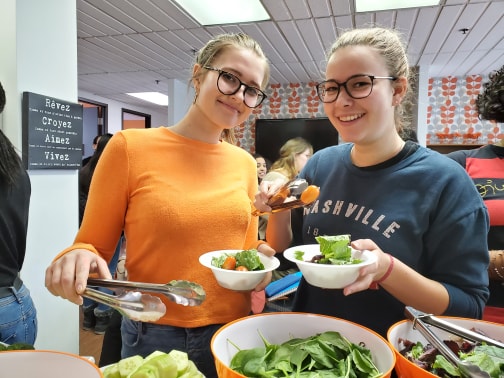 EC Montreal held a salad bar activity today as part of our New Year's Resolutions themed calendar of events.  We served our students a healthy lunch!  Eating healthy and making the right meal decisions is one of the most popular promises people make at the start of the new year.  Eating well has so many benefits.  It gives you energy, it enhances your immune system, it helps you maintain a healthy weight and keeps you in shape.  Last winter, the EC Montreal team attended a health and safety workshop and the keynote speaker spoke about protecting our employees by promoting a healthy lifestyle which includes getting physical, getting enough sleep, drinking enough water and most importantly making healthy food choices.  The goal is to make sure that with every meal, you have at least three different colors on your plate.  The more colors you have means you are eating fresh fruits and vegetables which are packed with wonderful nutrients and vitamins.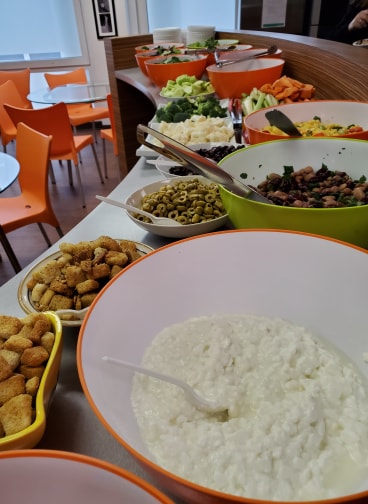 There were many different colors on display on the EC Montreal salad bar today!  The bar was set up with different kinds of lettuces.  We had bowls of arugula, spinach, kale, romaine, mixed greens and coleslaw.  The salad bar also contained so many wonderful and nutritious toppings.  We had cucumbers, bell peppers, cherry tomatoes, carrots, celery, broccoli, cauliflower, cottage cheese, tuna salad, green and black olives, as well as some crunchy croutons.  We also made two different kinds of salads that were so tasty.  We made a corn salad that was flavored with lime juice, green onions, red bell peppers, cilantro and olive oil.  The other salad was a five-bean salad.  It had different kinds of beans and the salad was dressed with cilantro, green onions, lime juice, garlic and olive oil.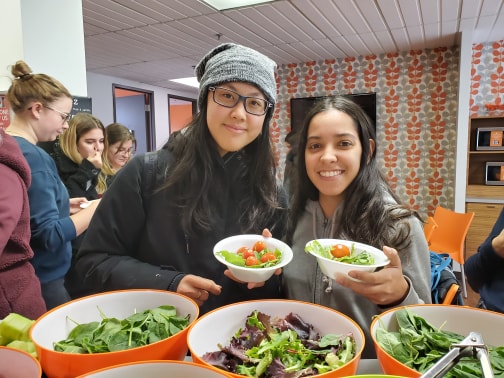 The students were delighted to see the salad bar all set up for them when they finished their class today.  They served themselves and enjoyed every bite!  It makes us so happy to see our students enjoying the activity and hanging out in the student lounge making friends.  That is the purpose of our Wednesday complimentary activities.  We strive to create opportunities for our students to make friends, practice their language skills and have fun!  Building an EC community is so important for our students.  This is what helps to create such a family feel at the school.
Join our EC community by enrolling in our English classes in Montreal!
Comments
comments