Ednira Figueiredo is a student from Brazil participating in EC Montreal's French Semi-Intensive programme since January 20, 2020.  She has been registered for a period of 5 weeks.  Sadly, this is her last week at EC Montreal.  We are going to miss her dearly.  It has been an absolute joy hosting Ednira during her French language adventure!  Here is what she wanted to share with everyone about her EC experience: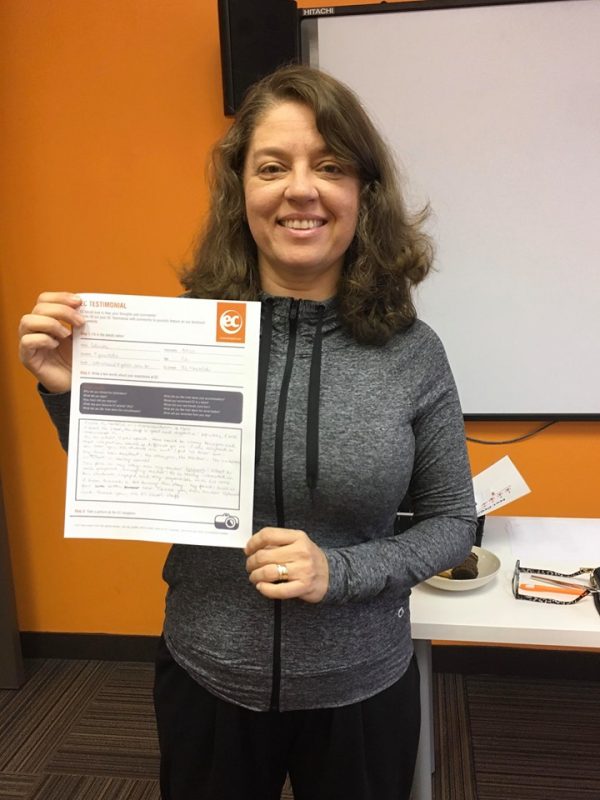 I chose EC Montreal as it was recommended by my agency Egali.  I loved the school, the staff is great and supportive!  Definitely, I will recommend EC Montreal.  As an adult, I was afraid there would be many teenagers and that integration would be difficult for me.  I was delighted to see how open all students are and I felt "at home" here.  My class was excellent, the colleagues, the teacher too.  The ambiance in the school is really special.
The plus in my stay was my teacher, Djamel!  What a well-prepared, amazing teacher!  He is really interested in his students, engaged and very responsible with his work.  I have learned a lot during this stay.  My French level is far better now.  Thank you, dear teacher, Djamel and thank you to all the EC school staff!
We are delighted to read such lovely comments from our student, Ednira!  We wish her continued success in her French learning and hope to welcome her back to EC Montreal in the future.
Interested in taking our French course in Montreal?  Join us this winter!
Comments
comments