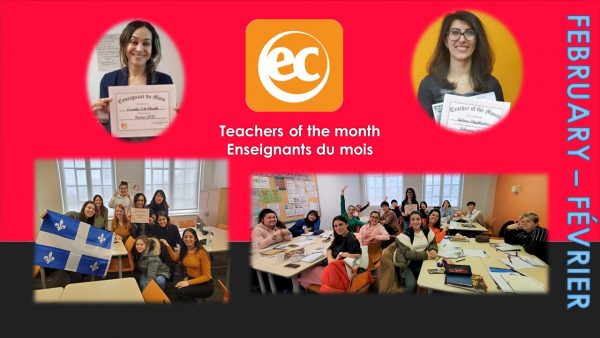 The end of every month is an exciting time at EC Montreal!  We announce the teachers of the month!  At EC Montreal, students have a chance to vote for their favorite teacher.  Our amazing team of student ambassadors distribute ballots to all our students.  The ballots ask two simple questions; Who is your favorite teacher?  and Why?  The why is super important to us as we have a chance to get so much wonderful feedback from our students and learn just how much our students appreciate their teachers!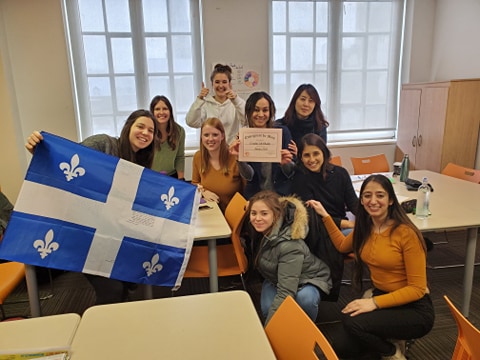 We are always so delighted to see that every single EC Montreal teacher receives votes and the winning teachers change every month.  This means that our entire teaching team is fantastic!  They are all skilled, experienced and most importantly, passionate about teaching!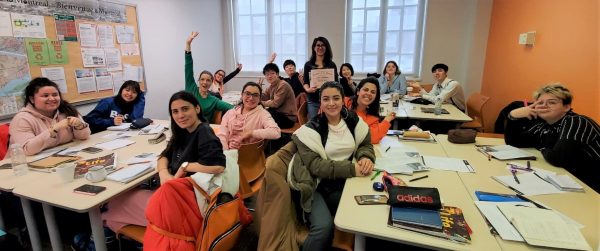 This month, the teachers that had the most votes were Essadia for our French department and Golnaz in English.  We surprised them both in their classes with a Teacher of the Month certificate and a small gift.  Their students cheered and applauded and were so very excited for their winning teacher.  They posed very proudly with the teachers.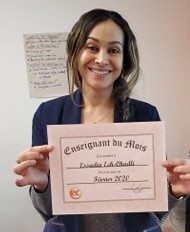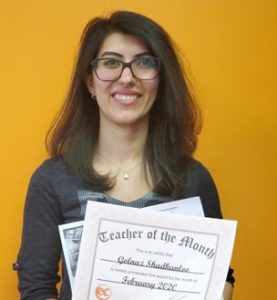 A world of thanks to all the students who took the time to vote and for the lovely comments about our teaching team.  We are delighted to share the comments with all of you:
Elle est toujours engagée à aider les étudiants.
Bon enseignement
Elle vraiement met le baton dans les roues pour les étudiants.
She's a very good teacher. I love my French classes with her.
Very good methodology.
She's lovely. A really good teacher and is always willing to help everybody.
Elle est très drôle et une bonne professeure.
Elle est très gentille.
Elle parle beaucoup.
She's really good at making sure that we remember what she taught us and getting everyone to participate.
She helps a lot with activities that we need to talk.
She is the best!
She is well-prepared, enthusiastic about teaching.
Elle est très patiente avec les élèves et aussi parce que elle enseigne très bien.
She's the best teacher.
She is good!
She is awesome! She pushes us to speak the language with her positive vibe. She is charismatic and very professional. I learned a lot from her.
She is always the best!!!
Elle est toujours drôle et étudier est facile avec elle.
Her classes are dynamic and fun.
She makes the class really dynamic, fun and easy to learn.
Il est toujours gentil.
Les leçons sont très variée.
Il est un très bon professeur.
La motivation de faire les choses est bonne.
Il est le meilleur!
He is amazing!
He is so nice.
She is really good.
She enjoys teaching and I totally understand the class.
She explains very well. She is so patient, and she helps me in my vocabulary and pronunciation a lot.
Great classes! Excellent content!
She is very didactic and easy to understand.
She is a good teacher and more friendly.
She is a friendly person. She speaks and teaches very well.
She makes the students feel comfortable.
She teaches very well.
She is so kind.
She gave us worksheets!
She is good and nice.
She always teaches us the right way in English.
I think she explains better and I liked her activities.
She is so kind to us and her classes are enjoyable!
She is very kind and answers our questions.
She has passion and her teaching is very good and she prepares us to study.
There are a lot of reasons to like her!
She is super nice!
She is a great teacher and she explains everything easily.
She makes good interactions with the students.
She explains with many details and provides different and creative activities.
He is friendly and funny.
She is very funny and a very good person.
He is really funny!!
He is so funny and exciting!
He is not boring.
She explains pretty well and I love the discussions we have in class.
She is a beautiful person. In her classes, I can learn obviously about English and the most important topic; life.
Her class is very practical.
She speaks about interesting topics.
She teaches me actively.
She is super skilled.
He is fun to learn with.
We look forward to welcoming you in our French or English lessons in Montreal!
Comments
comments