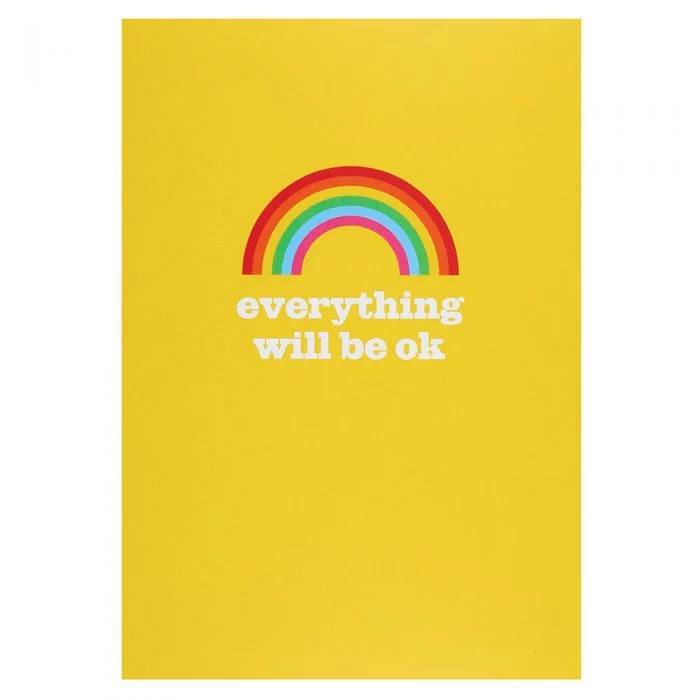 You may have noticed pictures and images of rainbows in windows recently.  It is an initiative created among this terrible covid-19 pandemic to help keep people optimistic and to help share cheer.  The global consequences of this pandemic are worrisome and creating a lot of anxiety among people.  We are self-isolating, staying indoors and practising social distancing but we are also filled with feelings of panic, worry and stress.  We worry about getting sick, we worry about our loved ones and have yet to see a light at the end of this tunnel.
We need to make an effort to keep each other optimistic and find ways to cope with this stress.  The rainbow initiative began in Italy where the virus has hit very hard.  Despite all the loss Italy is facing, they are finding ways to remain cheerful and positive.  We have seen them take to their balconies and singing as a community, a neighborhood, a country!  We have also seen images of the rainbow pictures on display with messages of hope "It's going to be ok".  This initiative has spread around the globe and we too, in Montreal, can see these rainbow images in our neighborhoods.
EC Montreal wants to keep this initiative going strong.  We want to see our students colour their rainbows and post them on social media with the hashtag it's going to be ok!  The entire EC team is working around the clock to get our students placed in our virtual classrooms so our students can keep on learning English and French uninterrupted.  We are also trying to keep the sense of an EC family or community going through our social media and the EC Montreal remote team we have created online.  This is a platform our students can use to post messages, images or questions.
EC has also started an Instagram competition where students are invited to share images of themselves indoors studying in our online classes or doing something cool while practicing social distancing.  Students are encouraged to post their image with the #ECvirtual.
We all need to do our part to get through this dark moment.  We will get through it together.  The sun will shine orange on the other side of the rainbow.
Comments
comments