EC Montreal has been offering our students virtual lessons since last Wednesday!  It has been exactly one week and although there have been some bumpy spots, the overall process has been a successful one!
I have been asking our EC virtual teachers to give us an update and here is what our outstanding English teacher, Olga, had to report: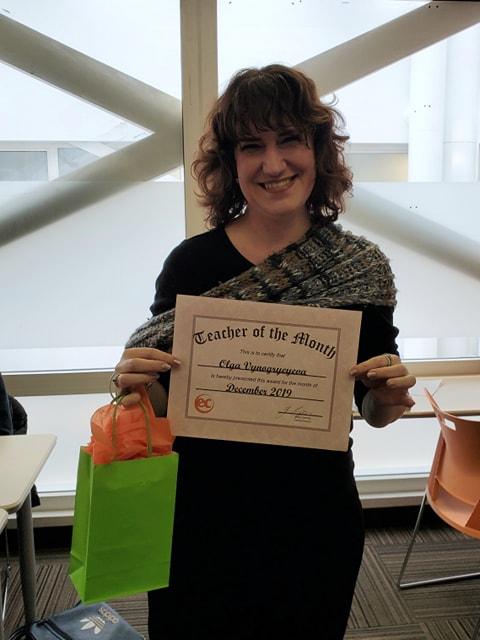 My students are very motivated students, they are sending me a lot of homework: essays, recordings, writings, notes taken after TED talks and audios. We work in a very individualized way. They shared their personal preferences and areas for improvement, and we are able to attend to all these issues now in a very thorough way. I send them my feedback individually, in everyone's emails just replying to them. We work longer than 45 min, but I am happy to. They need some support, you know–just from us as humans. We laugh a lot and I give them compulsory + optional homework for them to keep themselves busy so that everyone stays mentally healthy. We keep using EConline concurrently. I make sure all the aspects are covered: during the class we discuss things, exchange opinions and they ask questions about whatever they need to know more about. I also explain grammar. I provide them with the links, books, whatever material is needed. Speaking activities to be recorded are given as homework as well as writing, reading, listening, vocabulary and grammar practice to be discussed the next day.  So, everyone is given a chance to produce in speaking and writing.  Some students ask for more tasks! My students are very responsive, and I am so happy their brains are thirsty for work.
A world of thanks to our incredible team of teachers keeping our students motivated and engaged!  We never stop learning with EC virtual!
Comments
comments