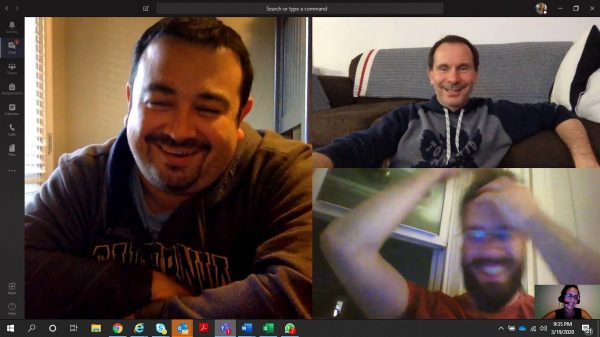 Facebook memories keep popping up every day and when we look back at what we were doing five years ago or even one year ago, it becomes difficult for us to comprehend the new lifestyle we have been trying to adjust to for the past three weeks.  It has only been three weeks, however, it does feel longer.  The memory that popped up for me from last year was the regional meeting for EC North America that took place in Miami Beach!  All the managers across all the EC destinations in Canada and the United States got together to share best practices, to learn from each other and to reinforce our team.  We worked hard during the day and made sure to connect socially over dinners, outings and even a spectacular team-building boat cruise.  One year later, we are all working remotely from home, facing new stresses, new challenges and a new way to deliver our services.
Working remotely, we now have an all North America meeting every two days.  This gives us a chance to check in with each other and discuss how we are coping as individuals, as an organization and as an industry.  Our Director of Operations, Martine, encourages us to share how we are doing before we get any meeting started.
Every Thursday, we have a global meeting lead by our CEO, Andrew Mangion.  He keeps us informed of all the steps EC is taking to get through these difficult times.  We look forward to these meetings as Andrew is a very gifted speaker and through his words he manages to put our minds at ease and gives us something to hope for and motivates us to keep fighting.
Our Human Resource team has also put together some wonderful resources on how to work remotely and how to be as productive as possible even when we are faced with so many fears, stress and the unknown.
We have also had wonderful opportunities to connect as a team through informal meetings and planned virtual happy hour events.  We get together to support each other, to help each other and to brainstorm ideas of how we can make bring EC to greater heights, even when faced with a crisis.
This blog post is dedicated to my EC family around the globe!  Thank you for your virtual company!  It is so very much appreciated!

Comments
comments