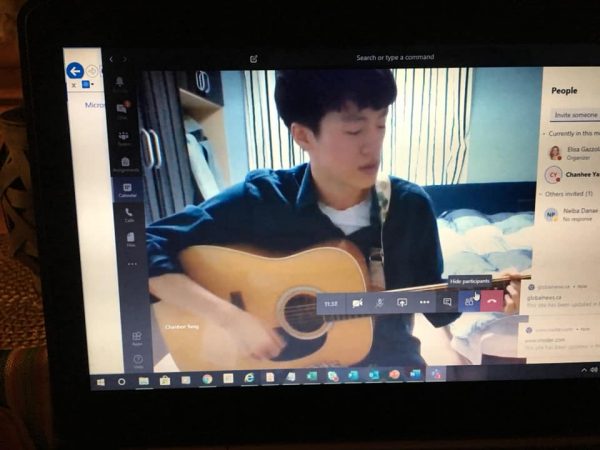 This past Saturday, EC Montreal students were treated to something very special.  Our former student ambassador, Terry, gave a live musical performance.  Terry is a very talented musician.  He plays the guitar and has an incredible singing voice.  Even though he is already back home in Korea, he wok up early to be there for his EC Montreal family!
We invited all our students who are on Teams to join the show.  Terry began the performance by greeting everyone warmly and asking everyone how they are coping with the self-distancing and isolation.
Terry sang both English and Korean songs and invited those attending to sing along.  In between songs, he continued to share inspirational quotes and warm messages.
Terry gave a stellar performance and treated us to a lovely show on a Saturday night!  We loved it so much that we have invited Terry to keep the performances going every Saturday!
EC virtual lessons take place on Teams!  It is a wonderful platform to conduct the online lessons and for all of us, no matter how near or far, to stay connected and keep in touch during this trying time.
Join our English online lessons with EC virtual today!

Comments
comments