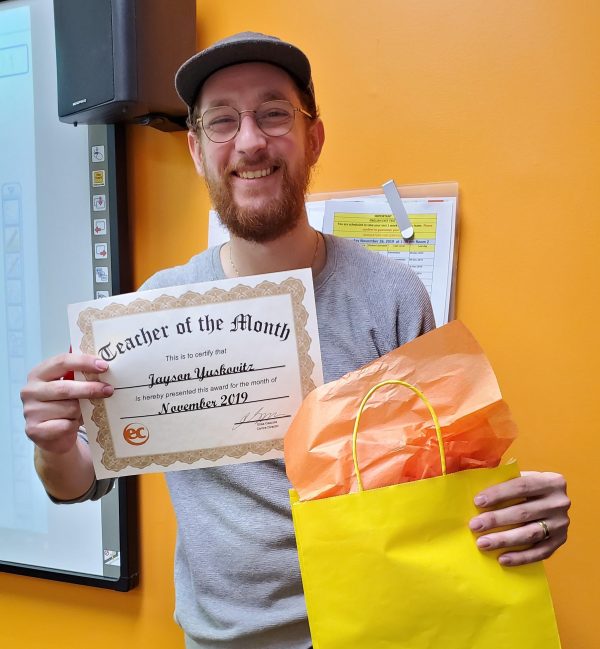 Throughout this lock down period, our EC Montreal teachers have truly been our heroes.  They have really stepped up and are delivering stellar online English and French lessons on EC Virtual.  Not only are they teaching our students their language skills, they have been a shoulder for our students to lean on and a much needed driving force in keeping our students engaged and motivated.
At EC Montreal, it is important that all employees and students feel they have a voice.  We often seek the feedback of all our stakeholders and rely on their point of view to make decisions and improve our services.  Every week, we will be introducing you to our EC Montreal teachers, one at a time.  This week, we are happy to introduce you to Jayson Yuskovitz.  Jayson is one of our most recent hires at EC Montreal but it did not take him long to settle in, winning our much anticipated teacher of the month campaign several times and hosting "English and Food" workshops.  In addition to being an excellent teacher, Jayson is also a very gifted chef!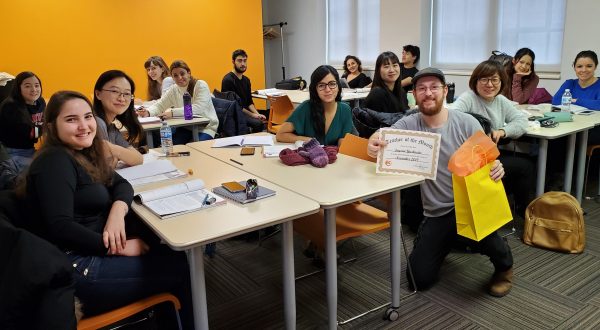 Here is what Jayson had to say about teaching at EC Montreal and teaching English online on Microsoft Teams:
I have been teaching at EC Montreal for a little over a year.  Time flies!  What I enjoy most about teaching in the EFL industry is the exposure to different cultures, models of learning, and the best-practices methods we use at EC.  The part I enjoy the absolute most is the creation of the "feedback" loop between class and teacher where we create the environment for learning success together!
Some of the benefits of online lessons is the ability to reach students around the globe and in different time zones, the ability to customize classes with learning software, being able to keep continuity with our students as well as accountability with homework and assignments.
I foresee there will be changes to the classroom experience when we return to our onsite classes such as the use of PPE while teaching, probably with measures to split students up and smaller class sizes as such.  Perhaps more reliance on group work that is asynchronous; phone calls, texting, etc…or novel ways to approach it with work independently in class but in web platform at home.  Too many changes to list, but we can definitely adapt a class to keep our great standard of learning in the new normal! 
I am an advocate of blended learning as long as in-class accountability / work and off-line remain reasonably similar.  It is a great way for inclusivity but can also lead to lower motivation.
I have implemented some initiatives to help keep my students motivated and engaged during this difficult time like assigning regular homework that is collaborative and always focused on positive or critical problem-solving objectives.  A regular "diary" of concerns, ideas and brainstorm topics that shifts topics from week to week.  It has definitely been challenging but possible!
It is difficult to foresee what the EFL industry will look like going forward.  It really depends on the influx of foreign students vs domestic students.  Perhaps many more francophone students who need something to work on while universities or work is impacted.  Hopefully a resurgence in online classrooms mixed with in-person facilities.
I would like to see more classes and more students going forward!  Aside from that, I would like to state my satisfaction with the process so far.  I am grateful to be continuing teaching and interacting with my students in this time of uncertainty.

Comments
comments