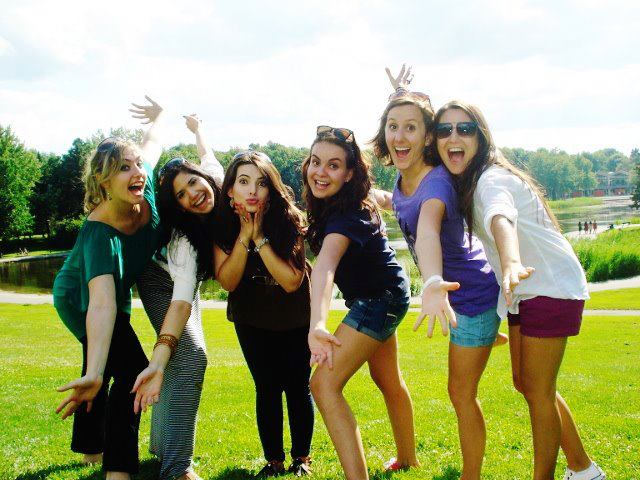 This week's throwback Thursday picture is of our students enjoying Mount-Royal park!  Every summer, EC Montreal organizes many activities on Mount-Royal.  We have planned picnics, hikes up the mountain, nature walks, sunset tours and sporting activities.  It is a breathtakingly beautiful place to visit and is always found on EC Montreal's calendar of events.  It is one of our favourite tourist attractions to introduce our students to.
Many people are surprised to learn that Mount-Royal was designed by the same person who designed Central Park in New York City.  Like Central Park, when you are in the park, you forget that you are in a large city.  You can get lost in nature and really take time to breath and enjoy the view.
Mount-Royal is located right in the center of the island of Montreal and is the highest peak of the city.  This is actually a law.  No building in Montreal can exceed the height of the mountain.  This was to ensure that Montreal remained a bright city not dark with tall skyscrapers and also to ensure that you always have a panoramic view of the city from the top of the mountain.
At the center of Mount-Royal is Beaver Lake.  Beaver Lake is a man-made lake that offers boating activities in the summer and skating in the winter months.  It also has seating and picnic tables to enjoy.  It is a very popular spot for sun bathing, exercising and picnic gatherings.  On Sundays you can enjoy the Tam-Tams on the mountain.  It is an enormous drum circle.  It can look a little "hippie" but it truly reflects the bohemian nature of Montreal.
Mount-Royal also has volleyball courts and soccer fields to really encourage people to be active.  During the winter months you can rent sports equipment for skating, snowshoeing, tubing and cross country skiing.  There is a chalet that also serves refreshments.
Now that summer is finally here in Montreal, many people are heading over to Mount-Royal to enjoy the season.  We recommend you visit too!  You can access Mount-Royal by public transportation or you can walk from downtown Montreal.  Simply make your way to Peel street and keep walking north!  Remember to exercise social distancing and wear a mask on public transportation as it is now mandatory.
It is very important that you enjoy the outdoors too as you are taking your English or French online lessons on EC Virtual.

Comments
comments