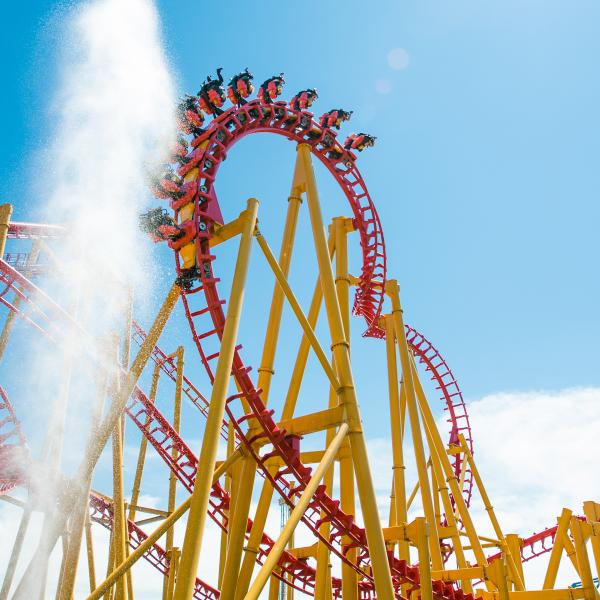 One of our favourite activities to enjoy and tourist attractions we most recommend to our EC Montreal students is La Ronde amusement park.  It usually opens to the public sometime in May but because of the pandemic, they have been closed during this time.  Keeping the public safe has been everyone's priority these past months.  We are excited to announce that La Ronde will be reopening on July 25!  There will be safety guidelines that everyone must abide by, including social distancing and wearing a mask.  In addition, there will be a limited number of guests permitted.
La Ronde is a Six Flags amusement park and is located on the man-made island of Ste-Helene.  It is accessible by public transportation and from the park, you can get a spectacular view of the city of Montreal!  While you are on the island, you can explore the other amazing tourist attractions found there.  There is the Montreal Casino, the Biosphere, which is a water museum dedicated to the teachings of the environment and climate change.  There is also the Jean Drapeau park and beach.  In addition, you can find the F1 circuit for the Grand Prix race.  People use the circuit as a cycling, running or rollerblading path.
La Ronde has hundreds of rides available for all different kinds of people, from the extreme sport enthusiasts to the more chill individuals.  They have a wooden roller coaster called the Monster that is one of the largest roller coasters in North America!
In addition to the rides, there are many games, restaurants and lounge type grounds to enjoy.
If you do plan to visit the amusement park, please remember that face masks are mandatory on public transportation and in the park.  If you don't have a mask, they will not let you inside.  It is also recommended that you avoid crowds and stay at least 6 feet away from other guests, when possible.
Enjoy Montreal's beautiful La Ronde park this summer!  We will be posting more information about the reopening of La Ronde park on Microsoft Teams where you can access your English or French online lessons.

Comments
comments