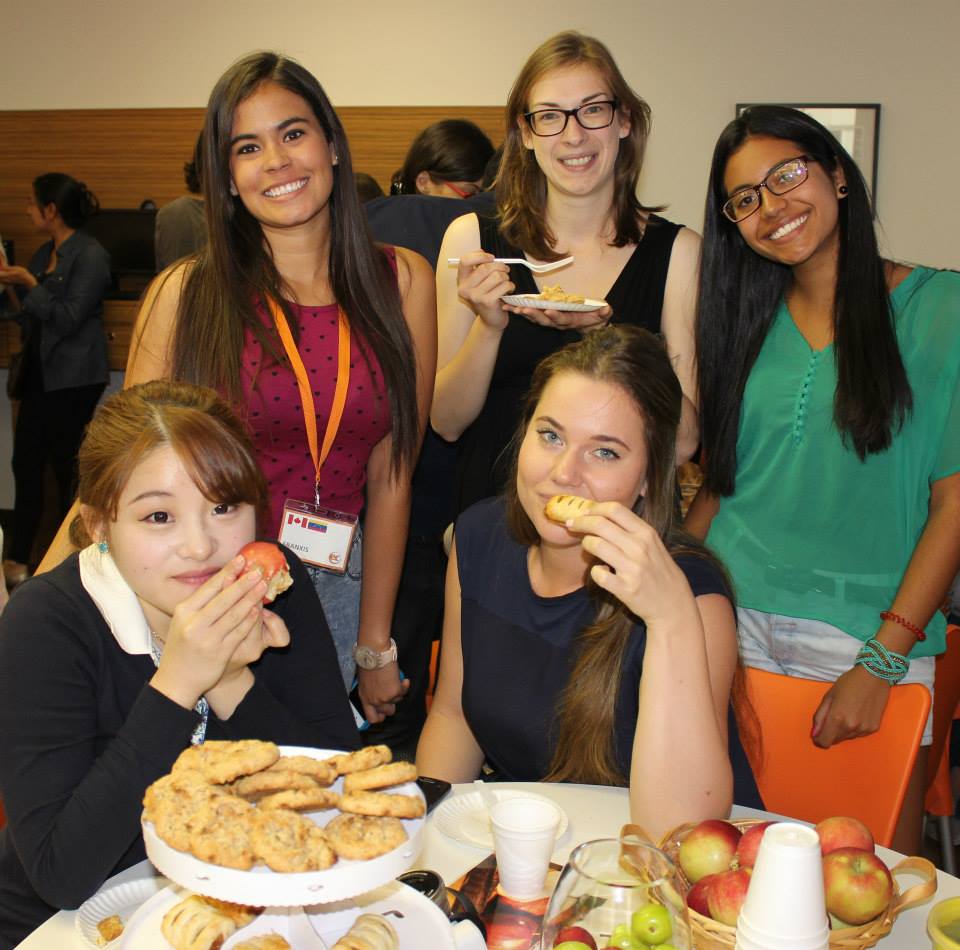 This week's Throwback Thursday is an image of EC Montreal's annual apple festival!  The entire month of September was always dedicated to apple season in Quebec.  All the Wednesday activities had an apple activity.  The theme was called "An apple a day…".  In addition to the apple activities, EC Montreal would hide an apple every day with a trivia questions.  The student who found the apple would race to the office to answer the question and claim their prize.  It was something we looked forward to every September!
Every month, EC Montreal offers a themed calendar of events and the activities are linked to that theme.  We have weekly activities and one of those activities is the main attraction.  In September, the main activity was the annual Apple Festival.
We would introduce our students to the different kinds of apples you can find in Quebec as well as a variety of apple treats.  Every table would have baskets and baskets of apples as well as baked goods like pies, cakes, cookies, juices, ciders and so much more.  All the refreshments were locally made and most straight from the farm!
In addition to the treats, EC Montreal would display facts about our apple orchards, apple recipes and fun facts!
Planning and executing these activities takes a lot of effort but it is worth it to see the look on our students' faces at the break time.  It is worth it to see our students enjoying themselves, practicing their language skills and making connections.
Our belief at EC Montreal is that what happens outside the classroom is just as important as what happens inside.  To benefit from the full-immersion programme, it is key to interact with people and to find opportunities to practice the language skills presented in class.
Social gatherings are currently on hold at EC Montreal because of the pandemic, however, we still find ways to keep our students connected and engaged in every way we can in the classroom and on Microsoft Teams.
EC Montreal has found a way for us to stay connected and still remain physically distant on EC Virtual.  Through our Online English Courses or our Online French Courses, you can make new friendships and form new bonds.

Comments
comments