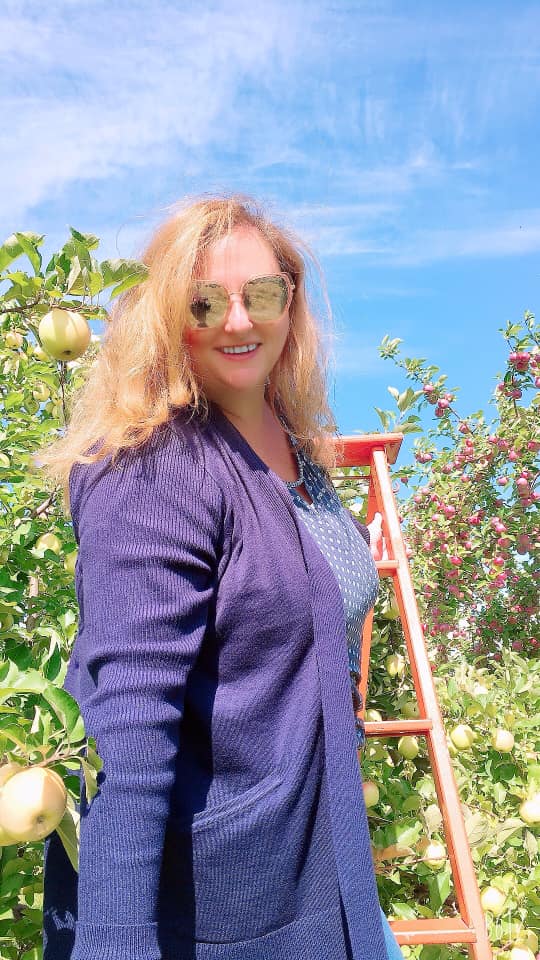 In keeping with September's theme of an apple a day, I am happy to share another apple recipe with all of you. I recently visited Quinn Farm where my family and I visited the pumpkin patch for our annual pumpkin picking. We had already been apple picking but noticed that the farm had so many apples to pick. There were many different varieties too! We couldn't resist and filled up a large bag. That means more baking and cooking with apples for me! We had a wonderful day at the farm. It was such a lovely way to enjoy the last days of summer. The sun was shining, and it felt so great to be outside.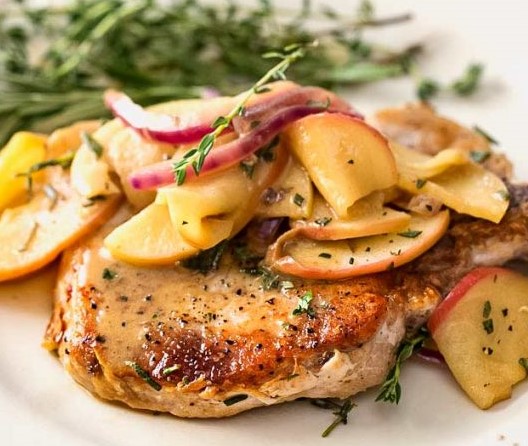 This week, I decided to share a savoury dish made with apples. One meat that pairs very well with apples is pork. You often see a roasted pork with an apple in its mouth. These two flavors go very well together. I always make sure to choose easy recipes, so our EC Montreal students, even with limited ingredients and kitchen appliances can still give them a try. This recipe is a one pan pork and apples dinner. For my version of this recipe you will need the following ingredients:
– 4 bone-in pork chops
– ¾ cup of chicken broth
– 1 teaspoon of mustard
– 1 teaspoon of sage (fresh or dry)
– 2 teaspoons of rosemary (fresh or dry)
– ½ teaspoon of thyme (fresh or dry)
– ½ teaspoon of salt
– ¼ teaspoon of black pepper
– 2 large apples, thinly sliced
– 1 large red onion, thinly sliced
– Olive oil
– Additional salt and pepper to taste
Choose a large skillet or pan as the entire meal is made from within this one pan. Season your pork chops with the salt, pepper and herbs. Heat up a couple of drizzles of olive oil on medium to high heat. When the pan is nice and warm, place your pork chops and brown them on either side. Remove the pork chops from the pan and set them aside. In a bowl mix together the chicken broth and mustard. Set this aside too. Add more olive oil to your pan. Add your apples and onions. Stir until slightly tender. Add the broth and mustard mixture and with a wooden spoon scrape off the brown bits at the bottom of the pan. Add the pork chops back in the pan and continue to cook for an additional 7 to 8 minutes.
I hope you will give this one pan recipe a try! I will be posting the recipe on Microsoft Teams where you can access your online lessons.
EC Montreal has found a way for us to stay connected and still remain physically distant on EC Virtual.  Through our Online English Courses or our Online French Courses, you can make new friendships and form new bonds.

Comments
comments