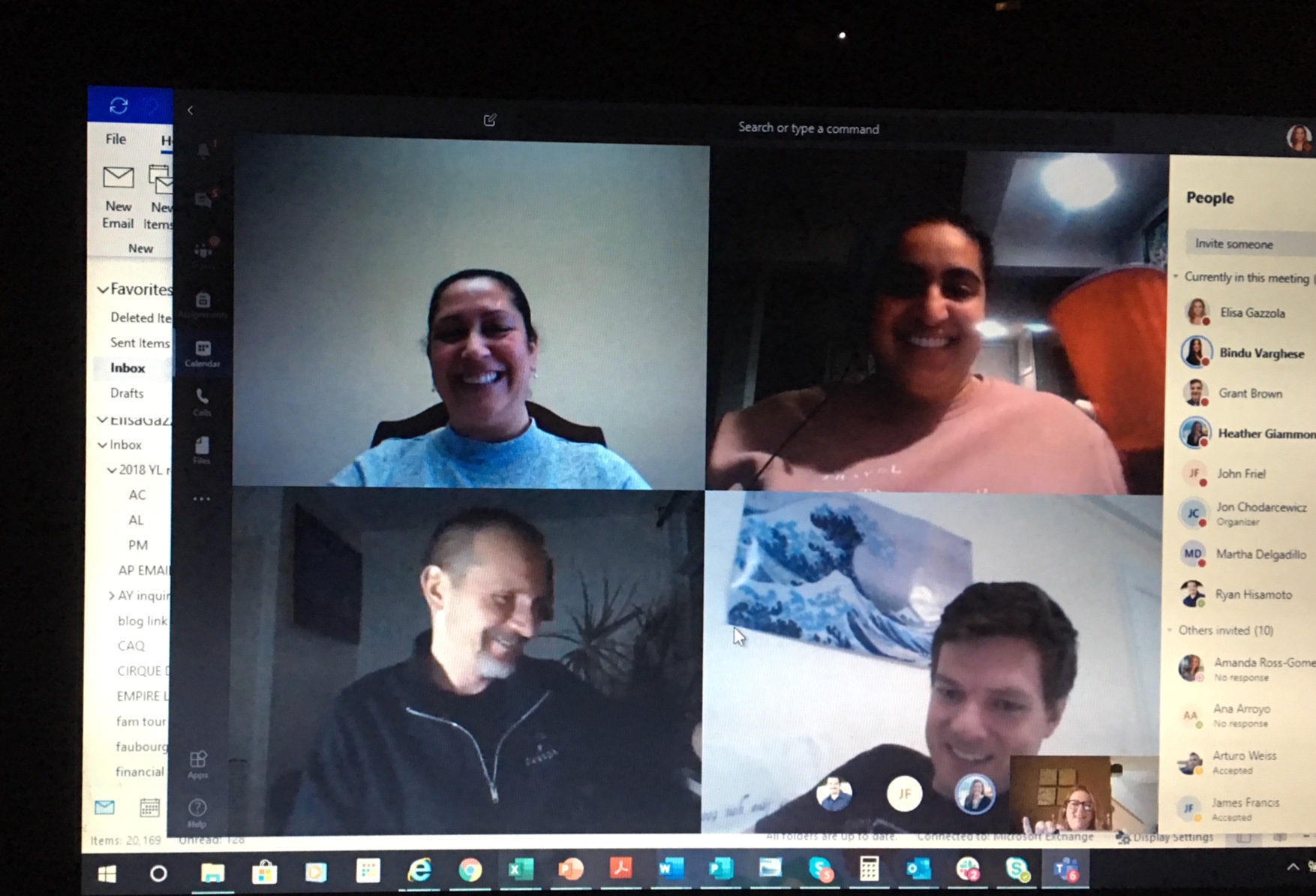 These are difficult times.  We are currently experiencing the second wave of the virus and in Montreal, we have been moved to the red zone.  This means that the government has implemented stricter safety measures.  Dining halls have been closed as have bars, casinos and most tourist attractions.  These measures are to prevent social gatherings to stop the spread of the virus.  We hope these measures will work so we can resume all the activities we truly enjoy doing in Montreal.  We will encourage our EC Montreal students to respect these measures so they can remain healthy and safe.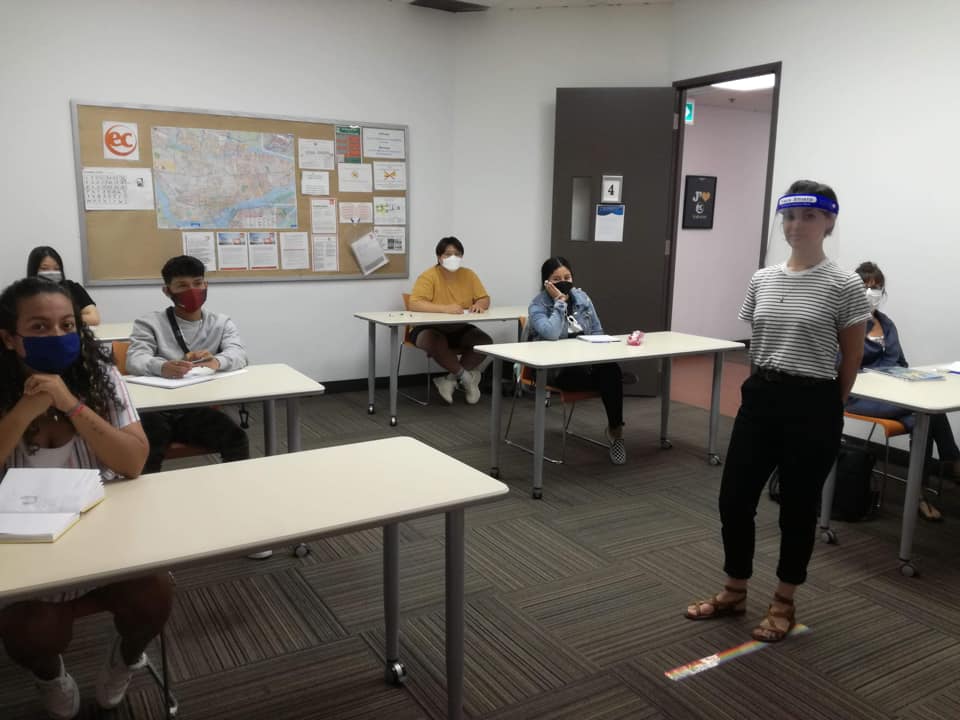 The EC Montreal school remains open.  Schools are considered essential services, so they have not been closed.  All of the safety measures EC Montreal has implemented are working to keep everyone safe.  When we reopened on August 31, we told our staff and our students that we could not get lazy with the new school procedures.  This extra effort was going to keep us safe.  The temperature checks, the daily health screening, the social distancing and mandatory mask requirement are just some of the measures we have put in place.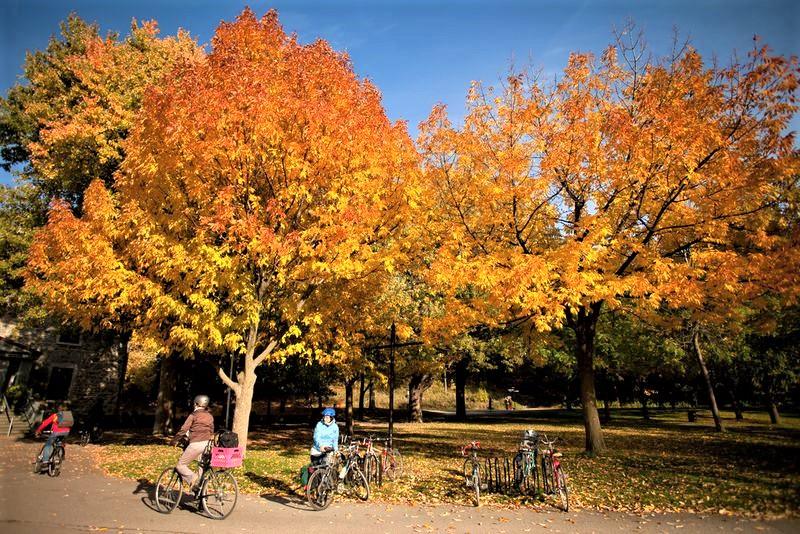 We strongly encourage our students to choose outdoor activities during these times and how important it is for our physical and mental state to get fresh air and vitamin D!  The fall colours are beautiful and taking a walk around the neighbourhood and in local parks will provide the exercise and change of scenery necessary to keep our spirits up.
We also encourage students to take place in virtual activities.  There are virtual happy hour events, trivia nights, netflix viewing parties and virtual workouts that can really help to pass the time and to stay connected.
The government has made it very clear that everyone should remain in their own bubbles to avoid the spread of the virus.  This is true in schools; where students must stay within there own classroom, even during break times and at home.  Only persons living at the same address can socialize with one another.  So, if you are living in homestay, or in an apartment with friends, you cannot visit another address or accept visitors at your address.
If you are lucky enough to live with an EC homestay family or at an apartment with friends, you can have a great time playing board games.  These games are fun and will also help you improve your English skills.  Here are some games we recommend you play.  One of our favourite games to play is Scatttergories.  The game comes with a letter dice and sixteen cards with twelve questions on each card.  The game begins with the roll of the dice.  The letter that it lands on is the letter you must use to answer all twelve questions.  You have a limit of two minutes to answer all the questions.  For example, if the letter is L, some of the questions you will see on the cards are; Items you find in your purse, famous people, things you hide, and so on.  The game will not only help with reading comprehension but will also help with your vocabulary.  If no other person gave the same answer, you get a point, if your answer contains to words with the same letter for example; Cotton Candy, you get two points.  If your answer is questioned by the group of players, you can lose your point.  The game always erupts in bursts of laughter.
Another game that really helps with language learning is Scrabble.  Every player gets seven letter tiles and they must spell words on the board by combining them with tiles already in play.  Each letter has a certain number of points.  By adding the points, you can tell who wins the game.  If you are lucky enough to use all seven of your tiles at once, you get a fifty point bonus.  This game really helps with spelling and vocabulary.  It gets really fun when people get creative with the words they try to create.
Trivial pursuit is another fun board game to play.  It tests your knowledge but as a language learner, it really helps with your reading comprehension, fluency and accuracy.  There are also a lot of virtual trivia games you can play.
If you want a break from binge watching on Netflix or Prime, we strongly recommend you play one of these board games.
At EC Montreal, some of our teachers incorporate some of these board games in their lesson plan to make learning fun!

Comments
comments