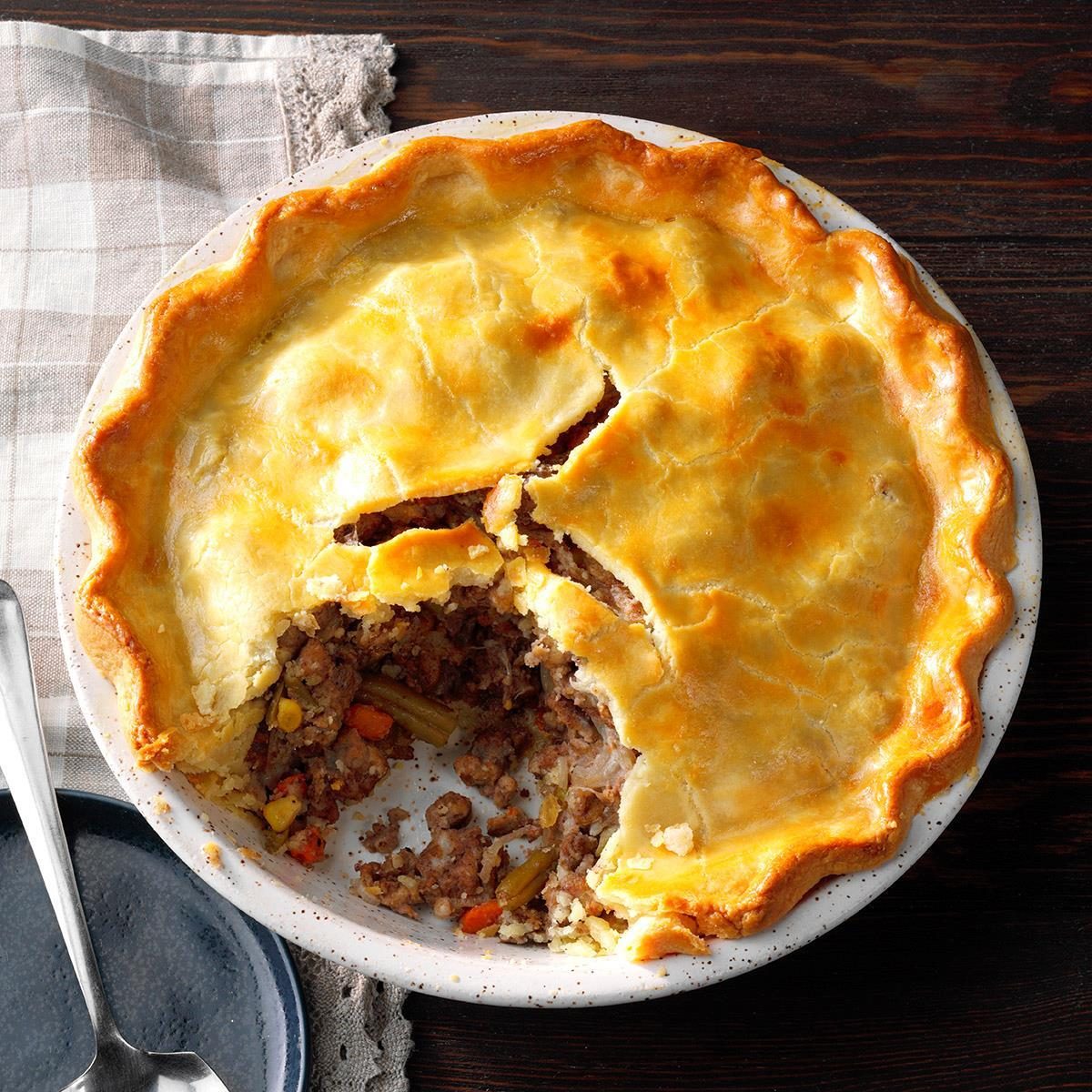 I have really been enjoying sharing some of my favorite recipes with the EC community. Like me, many people have been spending a lot more time in the kitchen as our outings are so limited. The recipes I choose tell a story of past EC Montreal experiences.
The weather is getting colder and this time of year we craze hearty, comfort foods. A very traditional dish in Quebec is meat pie. In French it is called Tortiere. It is served often during the colder months and you will always find it on a holiday table during Christmas, Thanksgiving and at the sugar shack every spring! It is very easy to make and easier if you cut corners like me and use store bought pie crust.
We hope you will give this recipe a try and get a taste of Quebec! For my version of meat pie, you will need the following ingredients:
– Pillsbury pie dough
– 1 cup of ground pork
– 1 cup of ground beef
– 1 small onion
– 2 cloves of garlic
– 1 cup of beef broth
– 1 cup of mashed potatoes
– 3 tablespoons of flour
– Seasoned salt
– Salt and pepper to taste
– 2 tablespoons of olive oil
Preheat your oven to 350 degrees. In a large skillet, heat up the olive oil. Add the diced onion and garlic. Cook until translucent. Add the ground meat and mix until browned. Season the meat. Add the mashed potatoes and stir in until very well blended with the meat. In a bowl, mix together the beef broth and the flour. Mix until it forms a gravy like mixture. Add this mixture to the skillet. Mix it all well. Carefully roll out the pie dough into a pie dish. Pour the meat mixture into the pie shell. Add the second pie dough to the top. Fuse the pie dough together with your fingers or with a fork. You can brush some egg wash to the top of the pie crust. Cut a decorative hole in the pie dough to let the steam out.
Bake the meat pie in the oven until the pie dough is a beautiful golden brown. Remove from the oven and let it set for a good ten minutes. Serve with a green salad, green beans, pickled beets and homemade ketchup to get the full Quebecois experience!
We will be posting this recipe on Microsoft Teams where you can access our virtual English or French lessons.
EC Montreal has found a way for us to stay connected and still remain physically distant on EC Virtual.  Through our Online English Courses or our Online French Courses, you can make new friendships and form new bonds.

Comments
comments