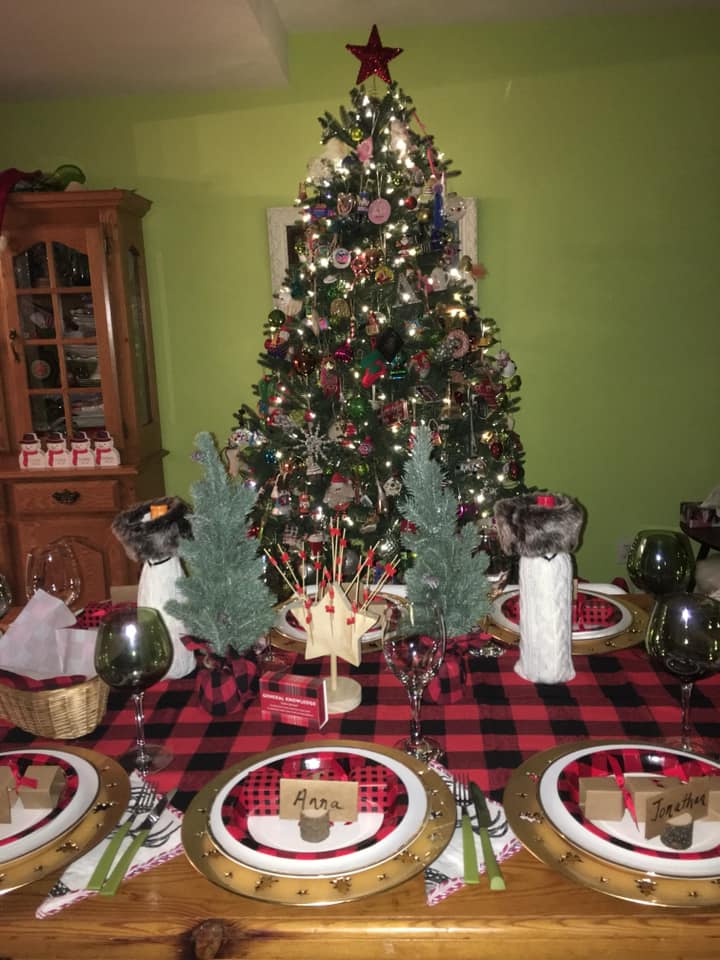 As it is already looking like Christmas in Montreal, I am getting excited to celebrate the holidays this year.  We have already put up our Christmas tree and the entire city of Montreal is all lit up!  Our Christmas festivities will be a little different this year, but we still need to do our best to celebrate with our loved ones and to focus on the joy and blessings we still do have in our lives.
French Canadians traditionally have a very big Christmas Eve celebration.  Most of them wait until midnight to eat the big feast they call Le Reveillon de Noel.  It is a long and extravagant meal.  Some of the staples on the table in Quebec are meat pies, roast beef and all the trimmings.  Some serve smoked salmon, seafood, foie gras, turkey or goose.  La buche de noel is usually served for dessert.
Some people open up their presents at midnight but in our family, we wait until the next morning.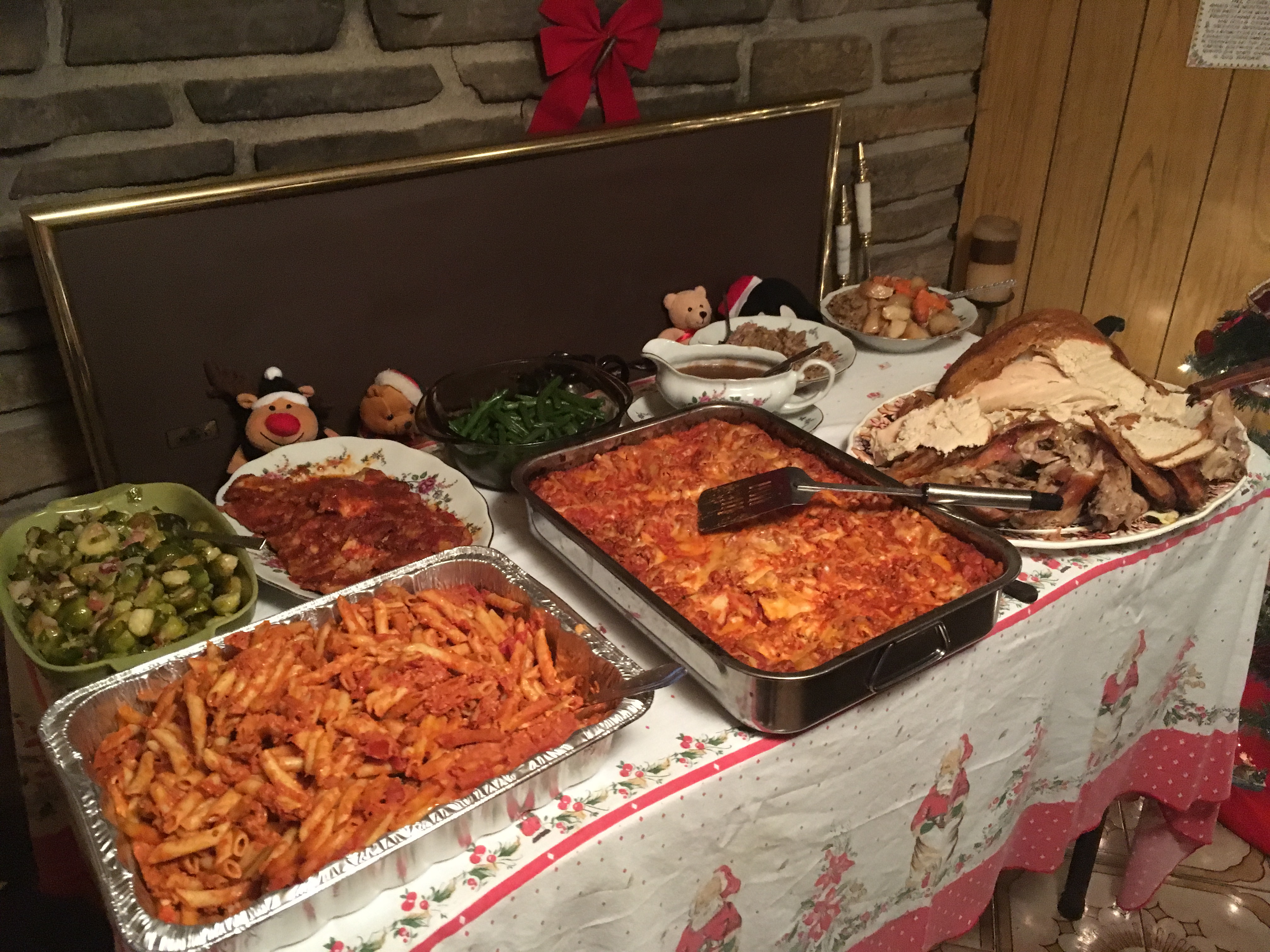 As I dream of Christmas, I am also planning in my mind my Christmas menu. One of the foods I often serve on Christmas Eve is lasagne.  It is our tradition to have a big Christmas Eve dinner with the family and we usually stay up until midnight to wish everyone a "Merry Christmas".  We serve panettone, champagne, chestnuts and tangerines at midnight.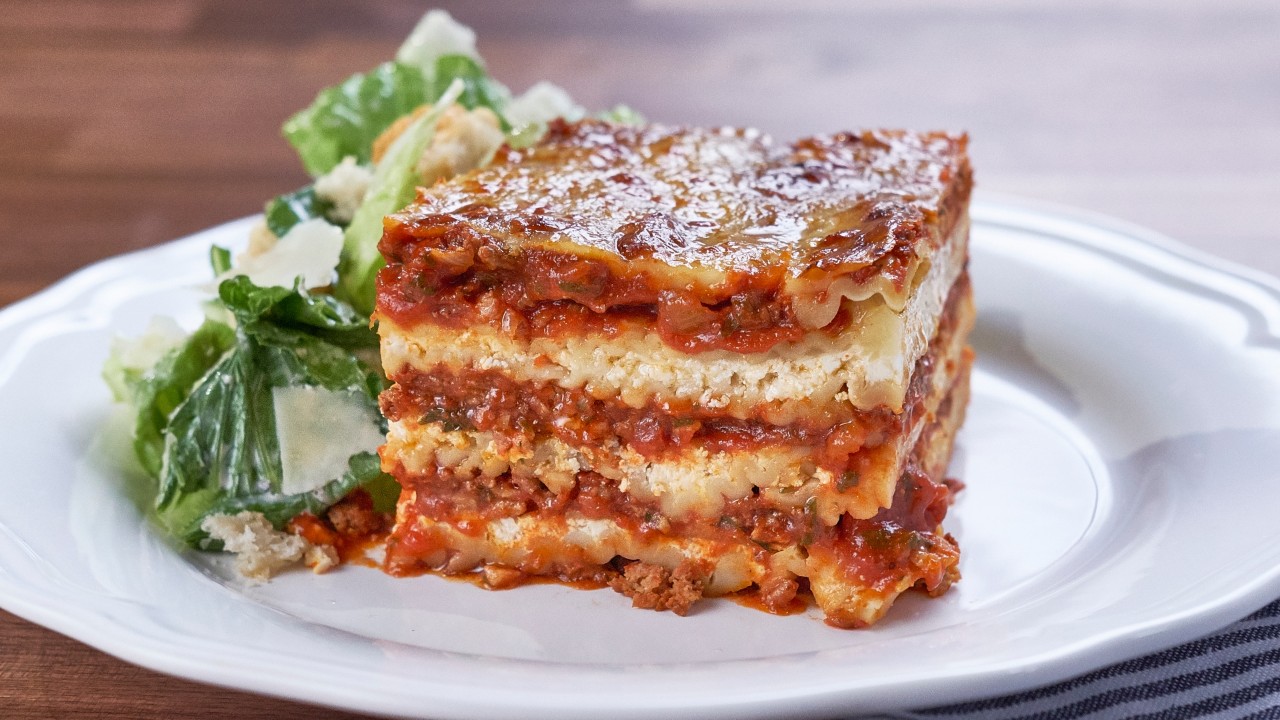 For my version of lasagne, you will need the following ingredients:
2 packages of oven ready lasagne noodles
1/2 pound of ground beef
1/2 pound of ground pork
1 large onion
4 cloves of garlic
1 litre of chicken stock
4 cups of mozzarella cheese
4 cups of ricotta cheese
1 cup of grated parmigiano cheese
1 tube of tomato paste
2 jars of tomato sauce – passata
salt and pepper to taste
1 bay leaf
1 grated carrot
1 grated celery
3 tablespoons of olive oil
You must first start by making your tomato sauce.  A proper tomato sauce takes hours to perfect, so begin this process early.  It is always best to make your lasagne the day before.  It always tastes so much better after it settles overnight.
Heat up your olive oil in a large pot.  Add your chopped onion, garlic, carrot and celery.  Cook until they are translucent.  Add your meat and season with salt and pepper.  Cook through until the meat is browned.  Add your tomato paste and tomato jars.  Stir well and add your chicken stock and bay leaf.  Cook on medium-high heat until the liquid comes to a boil.  Reduce the heat to a simmer and place the lid on the pot.  Forget about the sauce for the next two hours.  The sauce will reduce slightly and become a rich, delicious flavor.
Next, it is time to start layering your lasagne.  Use a lasagne cooking pan.  Begin by placing a generous portion of sauce, evenly spread to the bottom of the pan.  Add a layer of the lasagne noodles.  Top that layer with your meat sauce, mozzarella, ricotta cheese and parmigiano cheese.  Add your next layer of noodles and repeat this step three more times.  Put a generous portion of tomato sauce over the top and sprinkle with the remaining mozzarella and parmigiano cheese.  Bake the lasagne in a 350 degree oven for 40 minutes.  Remove when you notice the noodles have softened and the cheese is golden brown and bubbling.  Let the lasagne rest before cutting it into squares when you serve it.  I let mine cool before placing it in the fridge overnight.  I heat it up and serve it the next day.
I usually serve prociutto and melone as the first course, my lasagne is the next course followed by a veal dish, vegetables, a green salad and fruit for dessert.
I hope you will give this meat lasagne recipe a try.  I am sure you will love it!  We will be posting this recipe on Microsoft Teams where you can access your English and French virtual lessons.

Comments
comments