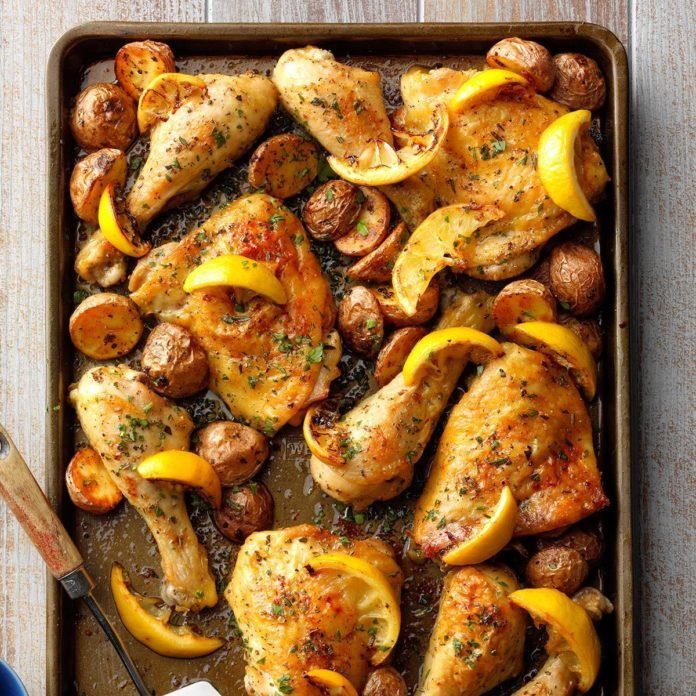 As we approach the holiday season, the weather is dipping below zero and nighttime seems to be coming earlier and earlier. The sun is setting before 4:30 p.m. and we have the impression that we have less time. I like to serve my family comforting meals during the winter months. I also feel like I don't have as much time, so I look for very easy and quick meals to prepare.
If you are on a budget, as most of our EC Montreal students are, chicken is one of the most affordable proteins you can purchase. There are so many easy chicken recipes that you can prepare. One of my favorites is Lemon Chicken. You don't need many ingredients and the entire meal can be prepared on one sheet pan.
For my version of Lemon Chicken, you will need the following ingredients:
– ½ cup of olive oil
– The juice of 2 lemons
– 4 garlic cloves, thinly minced
– A dash of dried thyme
– A dash of dried rosemary
– Salt and pepper to taste
– 12 chicken thighs or drumsticks
– 5 small potatoes, cut in half
– Lemon zest and slices
– Minced parsley (optional for garnish)
Preheat your oven to 420 degrees. Drizzle olive oil on a sheet pan. In a mixing bowl, combine the remaining olive oil with the lemon juice, garlic, herbs and seasoning. Use most of the marinade on the chicken and refrigerate it for approximately 30 minutes. Coat the halved potatoes with the remaining marinade. Spread the chicken and potatoes on the sheet pan and place the lemon slices over the top. Bake the chicken for approximately 45 to 60 minutes or until the chicken is cooked through and the potatoes are soft. Sprinkle the lemon zest and minced parsley over the top before serving.
We hope you will give this recipe a try! We will be posting it on Microsoft Teams where you can access your Virtual French lessons.
Bon appetit!

Comments
comments