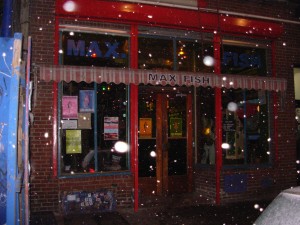 Hyo Jung had come prepared for her class with a question for her classmates: "If you had one day to live, what would you do?"
Bravo, Hyo Jung! You used correct grammar to ask an intriguing question.
Students confessed many interesting final requests when faced with mortality: emergency trips back home to see their families, emergency marriages to ex-boyfriends, and big parties.
The conversation eventually collapsed into laughter as one young man talked about his desire to spend the last of his money dancing and romancing.
The conversation reminded me of a wonderful bar in my neighborhood. The bar I am thinking of is MAX FISH and my neighborhood is Manhattan's Lower East Side.
I have lived on the Lower East Side since 1992 – a long time ago when rent-stabilized apartments were more common.
The Lower East Side (or L.E.S.) has gone through many changes since I moved in. It was a dangerous place back then and I had to be careful walking down its dark, empty streets. These days, the neighborhood is popular and prosperous. On Saturday nights, the L.E.S. fills up with tens of thousands of people visiting its many bars, restaurants, nightclubs, and art galleries.
MAX FISH – a bar that opened in 1989 – was there before the neighborhood became "cool" to people who are not so cool. The bar has changed little in its 20 years. The drinks are still cheap, the lights are still bright enough so that you can see the weird artwork on the walls, and the customers are still mostly art students or musicians.
Fake human skulls still decorate the ceiling of MAX FISH. I am not sure if other people notice the skulls, but I always do. To me the skulls mean this: Celebrate this night of being alive because time is short. Our lives on this beautiful earth are not forever.
MAX FISH is worth a look if you like new types of art, fashion, or music. It is located at 178 Ludlow Street (off of Houston St.). You can take the F or V trains to Second Avenue and walk there easily.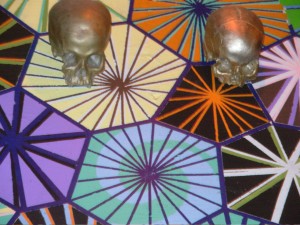 Posted by Mr. Michael Lyons
Comments
comments