Christy has been a teacher at our school for nine years.
She has taught grammar classes and listening & speaking classes; she has taught beginners, the most advanced students, and all levels in between.
Perhaps her most interesting classes are the ones she has created for our electives program; her "Sidewalks of New York" is an advanced class in our American Culture category.
In this class, her students study about places in New York City and often meet her in various neighborhoods of Manhattan. Students learn about the unique features of such locales as the East Village, the West Village, Chelsea, Tribeca, Soho, and other places.
For their final exam, students are expected to give a tour of a neighborhood.
Seunghun has been a student at EC New York since January. His blog entry below is very well written. (Our corrections were few.)
When I tried to get Seunghun to reveal how he learned to write so well, he shrugged, smiled, and said, "I just learned to write for the TOEFL test."
–EC NEW YORK BLOG
The Second Field Trip Downtown! by Seunghun
My class went downtown again to explore significant places there. I was supposed to go to the Wall Street Station on the 6 train, so I felt a similar feeling as if I were a returning salary-man. In the train, there were a lot of sophisticated guys in gorgeous suits. Some were reading newspapers, and some were trying to relax before work. I felt that some guys were hiding their own feelings under the strong smell of perfume.
No matter what happened in the newspaper, everything was usual: Today is the same as yesterday, and tomorrow is not going to change totally. People know the fact and acclimate themselves to this urban life.
The train arrived at Wall Street Station, and like other people, I rushed out of the train. I called a friend to ask the location of the group and I joined it.
At that time, my class was going out from Trinity Church. Just next to the church, there was a red tree root called the Trinity Root. Since I was late, I googled the meaning of the tree root:
http://www.flickr.com/photos/46983348@N00/710789618/
This tree is an artwork to memorialize Ground Zero. It was first installed at the American Museum of Natural History and then moved to this spot. I couldn't understand the meaning beyond the description, but the artist tried to give solace to the millions of people who visit the site where the most infamous attacks had taken place.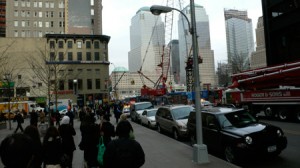 After we listened to Christy talk about the famous graves in the church cemetery, we moved to City Hall. On the way to City Hall, she explained some buildings on the street. She said that they were the oldest skyscrapers in New York. Unlike to other modern buildings, their decorations were somewhat antique. There were some statues on the wall, and the shapes were mysterious like the gods of Greek myth. She also introduced the building that was damaged on 9-11. Due to a lot of dangerous materials in the building (which may cause cancer), it has taken a lot of time to deconstruct it.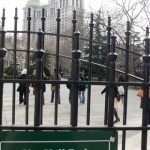 Inside the park, she explained about the politicians. I was surprised that many citizens were interested in the politicians. Christy was curious about a man who was entering the City Hall, and got his name. Well, politics concerns a nation's everything. People interest in politics starts from "remembering" the names of their leaders. After remembering their names, people get to know what their leaders are going to do for them.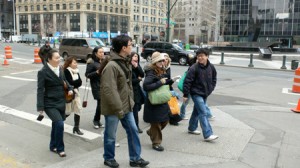 At this moment, I felt something inside my mind how Americans maintain their way of life. Everyone knows about the most brutal attack at the World Trade Center spot, but the citizens in the country try to keep this tragedy in their minds. Never overlook, never forget, and step forward as usual. I felt that the true strength comes from this. Forgetting may be helpful, but by keeping the tragedy in mind, they hope this kind of thing would not be repeated.
We looked around the court buildings, visited the souvenir shop, and returned to the school. As for me, it was a great opportunity to look inside the minds of Americans.
Text and photos by Seunghun.
Comments
comments