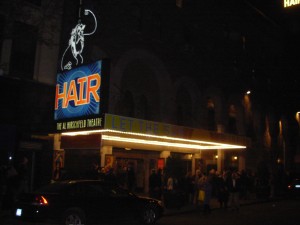 I confess!
I confess that I've organized social activities that both ESL teachers and ESL students could enjoy together.
When the Broadway revival of HAIR was announced this past winter, I quickly bought 25 tickets at the discounted group sales rate.
I eventually brought four teachers and 20 students to share the experience of this amazing musical.
HAIR is over 40 years old and nearly twice as old as our average student. However, all the teachers were familiar with the show because it's a classic.
Back in 1968, the show shocked audiences with its loud rock & roll music, crazy humor, and controversial story about young people living free.
Many students were not familiar with the play; they were worried it would be old fashioned.
"It's from the 1960s! We weren't born until the 1980s!" they said.
I laughed and said, "HAIR is not for kids!
"Get ready to party!"
After the show, the students came forward to tell how they felt about this wild rock & roll musical.
Nagisa said, "I loved the costumes and the music. I was able to enjoy the show even when the English was tricky."
Takako also liked the show. She explained, "The play made me wish I had lived in the 1960s."
Jeongwon was really impressed. "Now I can understand why American art is great."
Theater critics in newspapers and magazines have also loved this revival of HAIR.
Posted by Mr. Michael White & Mr. Michael Lyons.
Thank you, Ayana S., for your three wonderful photos!
Comments
comments